Airborne
(2012)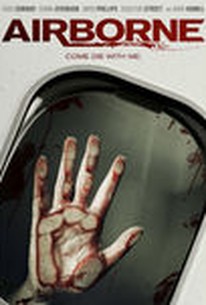 AUDIENCE SCORE
Critic Consensus: No consensus yet.
Airborne Videos
Airborne Photos
Movie Info
When a storm starts closing in, air traffic controller Malcolm (Hamill) sends one last plane into the sky - but after takeoff, the passengers aboard discover the pilots have been brutally murdered. Suddenly the plane disappears from radar, and one by one, the people aboard turn into dangerous, bloody psychopaths. With time running out, the survivors must unlock the deadly mystery in their midst - and find a way to land the plane before their ultimate nightmare is unleashed! -- (C) Official Site
Rating:
NR
Genre:
,
Directed By:
Written By:
In Theaters:
On DVD:
Runtime:
Studio:
Cast
Critic Reviews for Airborne
All Critics (2) | Fresh (0) | Rotten (2)
Unless just the sight of flying sends you into a tizzy, Dominic Burns' Airborne will leave you scrambling for a parachute and a quick access escape.

Come Die with Me is the tagline for Airborne, which is clever. Too bad the rest of the movie is not. This one's got a British accent, and not much else.

Audience Reviews for Airborne
Airborne is a kind of hospice for less successful Star Wars actors. Also it's really stupid. But that didn't stop me from watching it.
David Underwood
Airborne (Dominic Burns, 2012) Airborne starts off with the best of intentions, though it's a bit derivative of Snakes on a Plane atmosphere-wise (and really, there's nowhere to go from there but down); having a passenger disappear from a plane mid-flight over the Atlantic Ocean is about the best locked-room mystery one could possibly come up with. And for about half this movie's eighty minutes, Dominic Burns manages to give the locked-room-mystery angle its due, and this is actually a fun little movie, though it's never anything more than that. Unfortunately, however, there's a second half, where everything falls apart. Plot: it's the last flight out of England in the face of an oncoming hurricane, bound for New York City. Among the passengers: Alan (Burns regular Simon Phillips), a recently-dumped layabout who's still flying to New York for his engagement party despite no longer having a fiancee; Max (Snatch's Alan Ford), the stereotypical bad guy, right down to having two musclehead bodyguards, Luke (The Descent's Craig Conway) and Smoker (Harry Brown's Forbes KB); Bob (played by Burns himself), an obnoxious Yankee history teacher; Kailash (East Is East's Raji James), a doctor; a handful of flight attendants, and a few other folks of varying importance to the story. Alan, already morose, is stuck in a window seat next to Bob. Flight attendant Laura (I Can't Think Straight's Kimberly Jaraj), who also happens to be painfully single (see how that works?), takes pity on him and offers him a drink to help him sleep. Which works out fine, but when he wakes up, Bob has disappeared... it's silly but compelling... and then it hits the halfway point and takes a right turn into stupidland, roping in all kinds of ridiculous attempts at saving its own butt, each one feeling more and more like screenwriter Paul Chronnell was grasping at shorter and shorter straws. Eventually, he missed...but he did so about thirty minutes before he thought he did, based on this movie's running time. *
Robert Beveridge
½
I am not quite sure what type of horror film Airborne wanted to be, but it failed on all levels. I generally like horror on a plane movies (except for Wes Craven's Red Eye, which also sucked and continued to prove how much he sucks now). I even loved Flight of the Living Dead. But Airborne is about as tense, scary, and interesting as an episode of Dancing with the Stars. In other words, it is boring crap with few highlights to recommend it.
Al Miller
Discussion Forum
Discuss Airborne on our Movie forum!
News & Features