Airlift
(2016)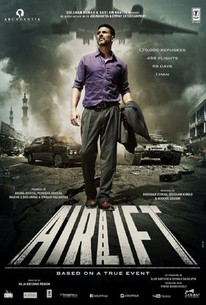 Movie Info
On August 2, 1990, Saddam Hussein invaded Kuwait. The Iraqi army took over the city within a few hours. The Kuwaiti royal family managed to escape to Saudi Arabia, leaving the state rudderless. The city was looted and the general population subjugated and made to suffer great tragedies at the hands of the Iraqi army. Kuwait was home to almost 1,70,000 Indians, all of whom had suddenly lost all their money, were homeless and scared for their lives. It is in this scenario that Ranjit Katyal (played by Akshay Kumar), a wealthy and powerful Indian businessman, who has always seen himself as a Kuwaiti, rather than an Indian, realises that he no longer wields any influence on the Iraqis, and that he and his family are in as much danger as anyone else. Indian businessmen got together to form a group that would oversee the evacuation of the huge Indian contingent from war-torn Kuwait. The evacuation was no easy task, as most Indians were not ready to leave everything they had worked for so hard, for so many years. Neither could they, as they did not have valid travel papers as the employers used to hold on to their employee passports once they landed in Kuwait, and those Kuwaiti employers were either dead or had fled by then. Ranjit unknowingly becomes the man who all 1,70,000 Indians look up to for getting them out safely from Kuwait. AIRLIFT is the story of Indians stranded in Kuwait during this traumatic time. A story of how they, with the help of Ranjit Katyal, managed to survive the Iraqi invasion, and against all odds travelled a thousand kilometres across the border into Amman, Jordan. From Amman, 1,70,000 Indians were brought home by the largest and the most successful evacuation ever attempted by any country, in the history of the world. Over 59 days, the Indian government systematically flew over 488 Air India commercial flights into a war zone to evacuate all 1,70,000 Indians and safely bring them back home. AIRLIFT is an uplifting and entertaining edge-of-the-seat thriller and is the story of the biggest ever human evacuation in the history of mankind.
Critic Reviews for Airlift
Audience Reviews for Airlift
There are no featured audience reviews yet. Click the link below to see what others say about Airlift!
Airlift Quotes
There are no approved quotes yet for this movie.