a/k/a Tommy Chong
(2006)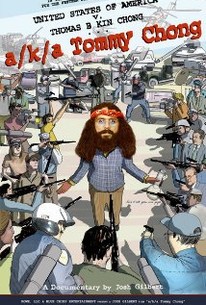 Movie Info
When comedy legend Tommy Chong was arrested in 2003 and given a nine-month prison sentence for the manufacture and sale of drug paraphernalia, U.S. Attorney General John Ashcroft's revamped war on drugs soared, like a mighty eagle stricken with vertigo in mid-flight, to new levels of absurdity. Fortunately, filmmaker Josh Gilbert's cameras were rolling at the time, offering viewers a firsthand account of the vengeful American justice system in action. In addition to glamorizing drug use, prosecutors argued that Chong was also guilty of trivializing efforts by law enforcement agencies to combat drug proliferation. When all was said and done, Chong, along with 54 others, was indicted on federal charges. For two years, Gilbert's prying lens followed the highly publicized case, allowing an amusing and sometimes frightening portrayal of eroding civil liberties in modern-day America. ~ Jason Buchanan, Rovi
News & Interviews for a/k/a Tommy Chong
Critic Reviews for a/k/a Tommy Chong
Audience Reviews for a/k/a Tommy Chong
½
Bill Maher: I can't think of a more ridiculous diversion of manpower than to bust Tommy Chong. If anyone feels safer because Tommy was put in jail, that's a ridiculous human being.  "United States of America v. Thomas B Kin Chong" Aka Tommy Chong is a documentary that strives to show just how stupid the government can be when it comes to the "War on drugs." It's solidly made and extremely entertaining if you are into the subject. Chong is a pretty charismatic guy and when he is onscreen, he's funny. Even right before he goes to jail and while he's in jail. He's cracking jokes, yet he's serious because the government made him serious. When he gets out, he says he's going to try to make a difference.  This film goes in depth on the mission called "Operation Pipe Dream." Mary Beth Buchanan had Tommy Chong hand picked long before this and the DEA used a little loophole in the paraphernalia law to take down Tommy Chong and his glass company. When his company shipped to Pennsylvania, which was one of the few states that were illegal to sell paraphernalia to, the DEA swooped in. Actually the people Chong sent it to were in fact the DEA. He was entrapped. So they raided his business and his home, and when all was said and done, he was convicted to a nine month prison sentence. Nine months in prison for selling a few bongs. That's one of the most ludicrous things ever. If you want a bong, a lot of tobacco stores and sometimes even gas stations and liquor stores will sell them. This whole "War on drugs" is a fucking joke, and Tommy Chong's case just proves that. The governments stand on drugs is getting ridiculous. Some drugs are okay, others aren't. You can go to a pharmacy and pick up bottles on bottles of dangerous prescriptions, but we can't smoke marijuana, which isn't dangerous at all. I'm under the impression that they should just legalize all drugs. Prohibition of them isn't doing anything except letting criminal organizations thrive off of the illegal sale of them. Sell them in drug stores, then people won't be forced to go to a killers house for their habit. They're going to do it anyway. This documentary uses Chong's case, as it pertains to the bigger issue. $12 million dollars was used to take down Tommy Chong. There aren't better uses for the taxpayers money? He was selling bongs for christsake. He even makes a joke about his bongs being the only weapons of mass destruction the government found. Gotta love Tommy. 
Melvin White
Super Reviewer
Most everything you ever needed to know, cared to know or didn't know about the 70's counter-culture comedy act of Cheech and Chong. Centers on the Bush Jr. administration's (John Ashcroft) bust of Tommy Chong, the documentary goes on to their stage acts, interviews and tv appearances. SEE the trailer here: http://www.youtube.com/watch?v=6ruVl_y5mus [img]http://t1.gstatic.com/images?q=tbn:ANd9GcSeWA_WylC2xhQwaIf8WW9Xp2YQzmC4VPnX0cpbmQH9uDNp5S5-[/img] SEE the entire film here: http://www.ovguide.com/a-k-a-tommy-chong-9202a8c04000641f8000000000cd63fd [img]http://upload.wikimedia.org/wikipedia/en/0/0e/Aka_Tommy_Chong.jpg[/img] NOTES: 1 Jay Leno, Bill Maher, Peter Coyote, Cheech Marin, and others come to the defense of popular comedian Tommy Chong when he became the target of a federal prosecution under the Bush administration for selling bongs over the Internet. 2 The film received positive reviews. Entertainment Weekly gave it a "B", calling it a "slender, revealing documentary, ... is a portrait of resilience: Chong does his time (nine months) and has the last laugh, emerging as a born-again activist-survivor of the culture wars." 3 Wesley Morris of the Boston Globe wrote, "This isn't a great piece of nonfiction filmmaking, but it has its moments", stating that Chong's presence in the film lent "a serene counterpoint to the farce Gilbert makes of the Justice Department...", but, "the movie does succeed in showing us the graying cult star as a gratuitous drug-war casualty". [img]http://t1.gstatic.com/images?q=tbn:ANd9GcTaea19212WKGeckCk71QXts4Oknm9FzPHlTo6VfgcOxP0egVcv[/img] The sixties-seveties comedy duo as they were then RT reviewers: 60% A politically-conscious documentary that steps in to cover the months after world-famous doper Tommy Chong's arrest... 80% Another impressive piece of evidence that the US constitution isn't worth the paper it's written on. 80% AKA Tommy Chong has got to be one of the best documentarys I've ever seen and just shows how insane and out of wack our government is and where their priorites are. This follows the court case of the government trying to get Tommy Chong and how it wasted 12 million dollars doing so all for making and selling glass pipes.... Recognitions/Awards: Official Selection - Toronto International Film Festival Official Selection - IDFA: International Documentary Festival Amsterdam Official Selection - Palm Springs International Film Festival Official Selection - Miami International Film Festival[11] Official Selection - SXSW Film Festival Official Selection - Full Frame Documentary Festival Winner, Best Documentary - HBO US Comedy Arts Festival Audience Award, Best Documentary - San Francisco Independent Film Festival Audience Award Runner Up, Best International Film - Vancouver International Film Festival Production credits Director - Josh Gilbert Screenplay - Josh Gilbert Producer - Josh Gilbert Executive Producers - A. D. Sinha, Cheryl Chapman, Matt Stephens Co-Producers - Will Becton, David Hausen, Brandie Knight Co-Executive Producers - Jeffrey Gordon, John Mato, Jay Tobin Associate Producers - Bonita DeWolf, Precious Chong Cinematography - John Ennis, Josh Gilbert, Jonathan Schell, Tim Huber, Sean McCall, Melik Editing - Will Becton, Howard Leder, Tom Walls Jr. Sound - Sabrina Buchanek, Grant Johnson, Bruce Maddocks Music - Oz Noy Sound Supervisor - Michael Mancini On May 7, 2008, federal agents raided Spectrum Labs as part of an investigation related to "drug masking products" used to fool drug tests. Chong alleges that 8,000 to 10,000 copies of his yet-to-be released documentary, which he claims were seized by the authorities, were the actual focal point of the raid. "It's a way to punish the distributor financially," Mr. Chong said. [img]http://t1.gstatic.com/images?q=tbn:ANd9GcSKzayQRu-dkBWoMWwTYgFRHxN4V2UjD5IiMt56tJYTfCaBzP3N[/img]
monsieur rick
½
A little history on cheech & chong and marijuana humor.
a/k/a Tommy Chong Quotes
There are no approved quotes yet for this movie.
Discussion Forum
Discuss a/k/a Tommy Chong on our Movie forum!