Aladin
(2009)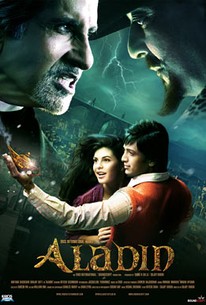 AUDIENCE SCORE
Critic Consensus: No consensus yet.
Movie Info
Aladin Chatterjee lives in the city of Khwaish, an orphan who has been bullied since childhood by Kasim and his gang. But, his life changes when Jasmine gives him a magic lamp because it lets loose the genie Genius. Desperate to grant him three wishes and seek the end of his contract with the Magic Lamp, the rock-star Genius makes Aladin's life difficult until the real threat looms on the horizon: the ex-genie Ringmaster. Why does Ringmaster want to kill Aladin? What is the dark secret about Aladin's past that Genius is carrying? And what is Aladin's destiny?
Audience Reviews for Aladin
½
The movie could have fared as an average (not great by any means, though) modern take on Aladin, but fails mainly owing to the following: --> Too many songs are forced in the script which is hard to get over. --> Amitabh Bachchan & Sanjay Dutt's characters (respectively genie Genius & Ringmaster) are penned over-dramatically. --> Ridiculous screenplay. I don't mind the use of wild imaginations, especially when it comes to this kind of movie, but it's the way it's executed that makes it so bad. The only department where the movie scores fair enough is its visual effects. Oh yeah, just in case if it's any consolation, the movie does have 2-4 lol moments. Riteish Deshmukh & Saahil Khan give a relatively better performance than the rest of the cast. Jaqueline Fernandes is okay. Amitabh Bachchan disappoints big time. Sanjay Dutt is mechanical. I wonder why they accept such roles in the first place..... Oh wait, I guess I know. It'd have been better had they compiled the out-of-the-place songs (that is, all songs) & released this as an album than as a movie. But then again, the songs weren't anything pleasing to ears either.
familiar stranger
Super Reviewer
Aladin Quotes
There are no approved quotes yet for this movie.