Alan Partridge
(2014)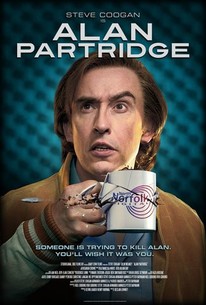 TOMATOMETER
AUDIENCE SCORE
Critic Consensus: The Alan Partridge movie ditches the TV series' nuanced humor for something broader, and succeeds in presenting the character on a global scale.
Movie Info
Alan Partridge (Steve Coogan) has had many ups and downs in his life. National television broadcaster. Responsible for killing a guest on live TV. Local radio broadcaster. A nervous breakdown in Dundee. His self-published book, 'Bouncing Back', subsequently remaindered and pulped. ALAN PARTRIDGE finds Alan at the center of a siege, when a disgruntled fellow DJ (Colm Meaney) decides to hold their station hostage after learning that he's getting sacked by the new management. The character Alan Partridge first appeared over twenty years ago as a BBC sports reporter on the radio show, On The Hour. Since then, this wonderfully conceited, petty, anal, idiosyncratic comic creation has flourished across virtually every medium you can think of. He's been a sports reporter (again) on the seminal TV news spoof, The Day Today, host of his own TV chat show, Knowing Me, Knowing You, star of the fly-on-the-wall sitcom I'm Alan Partridge, and most recently Mid-Morning Matters..(C) Magnolia
News & Interviews for Alan Partridge
Critic Reviews for Alan Partridge
Audience Reviews for Alan Partridge
½
It's absolutely hilarious. A tremendously enjoyable comedy that's loaded with energy and huge laughs. It the funniest movie of 2014. A flat-out, fall-out of your seat comedy. I couldn't help but enjoy myself i loved it. Non-stop laughs and fun from start to finish. Steve Coogan is a comic genius, he gives one of his funniest performances ever. Coogan is a riot, he has so much energy and love for what he does and gives it all in every way. A knockout comedy classic. Ron Burgundy can eat his heart out.
[img]http://images.rottentomatoes.com/images/user/icons/icon14.gif[/img]
Directors Cat
Super Reviewer
When I first discovered the premise of Alan Partridge: Alpha Papa, which is the siege of the North Norfolk Digital building, I was concerned that, like many big screen adaptations, Alan Partridge was departing from its humble, unspectacular roots. By half way into the film, my concerns had unfortunately been confirmed. There are gun shots, fire-extinguishers to the face, explosions, armed policeman; it is by no means an action film, but since when was there such commotion in Alan's life? It was the desperate loneliness, alienation and banality of Alan's life in the original TV series that made audiences laugh and cringe while pitying and sometimes despising the pathetic central character. When I got home completely deflated after watching Alpha Papa, I reminded myself of just how good Alan could be by watching YouTube clips of the 1997 series. A single five minute scene of Alan attending a funeral captured the essence of the character. The dialogue is so rich, almost every line provided a laugh and I was cringing at Alan's complete and utter social ineptitude. Throughout the series you learn Alan's behaviour, it doesn't take one long to know when Alan has an agenda; he is so self-centred, immature and incredibly tactless that the viewer can read him like a book. It's both amusing and toe-curlingly embarrassing to see Alan converse with people and deal with his many problems. All of the subtlety and character study is missing in the film. Alan is no longer a sad-man, a complete liability. He's still cringe-worthy, particularly in scenes where he attempts to court a colleague, but none of the gags even scrape the surface of the programme's brilliance. The gags are really quite tired. They're predictable and rehashed, particularly scenes that initially appear melodramatic but are then abruptly interrupted by an action or one-liner like a needle scratching across vinyl. There's also a genre-aware armed stand-off scene towards the end where the characters have 'humourous', flippant exchanges despite the immediate danger in an 'In Bruges' fashion, only not funny. More than once I found myself sighing with disappointment and embarrassment at just how off-the-mark and rehashed the comedy was. Just like the film's premise, Coogan's performance is overblown, he needed to reel himself in. There would be flashes of classic Partridge, but generally both the dialogue and slapstick comedy just died. I commend Coogan's skill for miming perfectly to Roachford's 'Cuddly Toy'; however it just wasn't as funny as his air bass performance of Gary Numan's 'Music for Chameleons' in the second series. The two principal characters of the programme, Lynn, Alan's devoted and criminally underpaid secretary, and Michael, Alan's good natured friend, seldom appear in the film. These characters were crucial in the series as they revealed many facets of Alan's personality, exposing just how self-absorbed and manipulative he is whilst also showing how utterly dependent he is on their attention. We have the original team of Coogan and Iannucci, however it lacks almost every element that made the series so funny, eminently quotable and re-watchable. It shares very little in common with its televisual sibling, all Alpha Papa has is a caricature of a caricature and a thin, boring siege plot. www.hawkensian.com
Jack Hawkins
Super Reviewer
Alan Partridge Quotes
| | |
| --- | --- |
| Alan Patridge: | Just sack Pat. |
| | |
| --- | --- |
| Alan Patridge: | I am siege face |
| Alan Patridge: | I am siege face. |
| | |
| --- | --- |
| Alan Patridge: | He's gotta shooter! |
| | |
| --- | --- |
| Alan Patridge: | Time for big school |
| Alan Patridge: | Time for big school. |
| Alan Partridge: | Welcome to big school. |
Discussion Forum
Discuss Alan Partridge on our Movie forum!