Ali Zaoua, prince de la rue (Ali Zoua: Prince of the Streets)
(2000)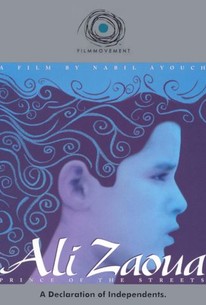 Movie Info
A handful of street kids in Casablanca struggle to pay tribute to a fallen comrade in this drama. Ali Zaoua (Abdelhak Zhayra) is a homeless boy who runs with his friends Omar (Mustapha Hansali), Boubker (Hicham Moussane), and Kouka (Maunim Kbab), all of whom get by on their wits and often stray into petty crime to provide food, clothing, and shelter. The four boys were once under the thumb of Dib (Said Taghmaoui), a man who lords over a gang of young criminals, but under Ali's guidance they've decided to strike out on their own rather than share their meager earnings with Dib. Ali claims he's soon to sail away from this village to a better life, which his friends don't quite believe. However, after Ali is killed by Dib's goons, they learn he had indeed been hired as a cabin boy on a ship. Omar, Boubker, and Kouka pledge to arrange for a proper funeral for their late friend, whose body they're hiding from Dib and his men; however, paying for Ali's internment proves to be no easy task. Ali Zaoua received its North American premiere at the 2000 Montreal World Film Festival.
Critic Reviews for Ali Zaoua, prince de la rue (Ali Zoua: Prince of the Streets)
Audience Reviews for Ali Zaoua, prince de la rue (Ali Zoua: Prince of the Streets)
Interesting movie that centralizes around a small group of city street kids. Ali, Kwita, Omar, and Boubker live near the ports and watch the boats and ships there. Ali dreams of becoming a sailor. Kwita focuses only of surviving and looking out for their small group. Leaving behind a gang led by Dib, they fear the consequences. After a brutal incident, Kwita now only has Omar and Boubker for companions. Mounim Kbab, Mustapha Hansali, Hicham Moussoune, Abdelhak Zhayra, and Said Taghmaoui stars. Worthy!
½
A Moroccan film about homeless children on the streets of Casablanca. The title character is killed in a street dispute in the first scene and his friends are forced to find a way to bury him with limited resources. This isn?t nearly as depressing as it all sounds, although this is an unflinching look at young children living in very desperate conditions. The film has a real sense of childhood whimsy despite depicting the gritty mean streets of Casablanca. What?s remarkable is that the film successfully has its cake and eats it too, it manages to simultaneously be gritty and whimsical, something hacks like Marc Forster only dream of actually accomplishing. The actors in the film are actually homeless children and the movie has a documentary feel but never revels in it. A very good movie from an area that doesn?t get much representation in international cinema.
Ali Zaoua, prince de la rue (Ali Zoua: Prince of the Streets) Quotes
There are no approved quotes yet for this movie.