Alias Nick Beal
(1949)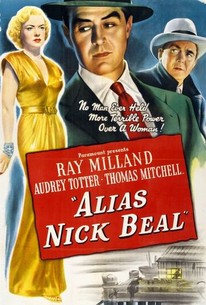 AUDIENCE SCORE
Critic Consensus: No consensus yet.
Movie Info
A judge rhetorically offers to sell his soul to win the governorship of his state and is naturally quite surprised when the real Satan appears to enforce the deal. This Faustian drama follows the politician's struggle to reconcile his desire to do good with the source of his newfound power.
Rating:
PG
Genre:
, , ,
Directed By:
Written By:
In Theaters:
Runtime:
Studio:
Paramount Pictures International
Critic Reviews for Alias Nick Beal
There are no critic reviews yet for Alias Nick Beal. Keep checking Rotten Tomatoes for updates!
Audience Reviews for Alias Nick Beal
A beautifully shot Faustian tale which relies rather heavy-handedly on the power of a prop at the conclusion but has a lot to enjoy along the way. Ray Milland as Nick Beal looks an awful lot like he might have been an inspiration for the look of Robert Mitchum's Harry Powell in NIGHT OF THE HUNTER.
Michael Harbour
½
Alias Nick Beal (John Farrow, 1949) While Aussie director John Farrow was nominated for Best Director for is 1942 war picture Wake Island, and worked steadily in Hollywood from the mid-thirties until his death in 1963, his career didn't really send him into the A-list until the mid-fifties, when he started directing a trail of hits that began with the John Wayne vehicle Hondo. (He picked up his only Oscar win during the salad days-for co-writing the 1957 script for Around the World in Eighty Days.) Many of the films he made before that time are, to be charitable, obscure. I've been trying to track down a copy of Little Miss Thoroughbred for years without success. I've managed to come up with a few of the others, though, and one of them is Alias Nick Beal, an interesting, if smarmy, post-war Faust. The good doctor, in this case, is actually a district attorney, Joseph Foster (the great Thomas Mitchell, from such classics as High Noon and It's a Wonderful Life), with ambitions towards less, shall we say, hands-on political roles. Mephistopheles takes the form of one Nick Beal (The Lost Weekend's Ray Milland, who'd teamed with Farrow the year before in The Big Clock). Beal offers Mitchell the documents he needs to put a criminal behind bars forever, with one small caveat: there's no way they can be gotten at legally. He'll have to sacrifice some of that moral uprightness for the cause. Mitchell, who believes the ends justify the means, agrees, and we begin down the road we expect: Beal gets Mitchell farther and farther into dutch, until Mitchell finally realizes what (or whom) he's dealing with and has to decide: power or his soul? That the ending of this film is pretty much sewn up before the first frame is no reason not to watch it. The journey is often more interesting than the destination, when it comes to movies. But what makes variations on this theme such as The Devil and Daniel Webster interesting is that they are variations. Alias Nick Beal plays it as straight as the line between Thomas Mitchell's eyes and Audrey Totter's splendid cleavage. Farrow had the right idea-take Faust and make it into a piece of noir-but he neglected to note a couple of the defining features of noir, which are decidedly incompatible with the story as written (and as presented here). For example, what was the last noir film you saw that had a completely happy ending? Go on, I'll wait. Still thinking? Of course you are, because that movie doesn't exist. The downbeat ending is one of the defining features of noir, as much as the sultry, low-voiced dame (Totter, in fact, in quite a few cases) and the square-jawed sap who suddenly realizes the jaws of life's trap are about to close on him through no real agency of his own. Here's the problem: it is Joseph Foster who brings about his own downfall, as well as being the agent who almost singlehandedly engineers the ending of the film. Foster is an empowered hero, not a noir type at all. Not to say this is a bad film. In fact, there is much to like about it, and the majority of that comes from the acting. Mitchell, Milland, Totter (as the woman Beal sets up to try and lure Foster away from his wife, played by the indomitable Geraldine Wall), George MacReady, that's a principal cast you can't argue with, and they all do a very good job. If only they'd had better source material to do it with, Farrow's salad days may have come four years sooner than they actually did. ** 1/2
Robert Beveridge
Alias Nick Beal Quotes
There are no approved quotes yet for this movie.