Alice Doesn't Live Here Anymore
(1974)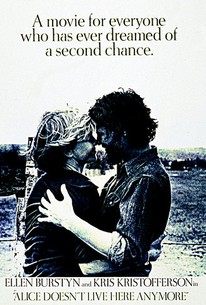 TOMATOMETER
AUDIENCE SCORE
Critic Consensus: Alice Doesn't Live Here Anymore finds Martin Scorsese wielding a somewhat gentler palette than usual, with generally absorbing results.
Alice Doesn't Live Here Anymore Photos
Movie Info
Alice Hyatt is a widowed mother with a growing son. Left penniless after her husband's death, Alice and her son head for Monterrey, where Alice hopes to launch a singing career. After a horrific liaison with her brutish boyfriend, Alice is afforded better treatment by a kindly rancher.
News & Interviews for Alice Doesn't Live Here Anymore
Critic Reviews for Alice Doesn't Live Here Anymore
Audience Reviews for Alice Doesn't Live Here Anymore
A movie about a widow and her bratty son moving west to make a better life for themselves. The movie is OK, but I find it hard to fathom that the mom - Alice won an Academy award, and a fellow waitress, Flo was also nominated for Best Supporting actress.
This was Martin Scorsese's fourth feature film, and his first as a Hollywood studio production. It's also his first, and so far only film to be centered on a female protagonist. The story focuses on Alice Hyatt, a resigned housewife who, after the sudden death of her uncaring husband, flees New Mexico for California with her precocious and bratty pre-teen son Tommy to pursue her childhood dream of being a singer. Due to their somewhat bleak financial situation, Alive and Tommy's quest for Monterrey is put on hold as she's forced to take up a job waitressing at a small diner in Tucson until she can accumulate enough money. Along the way, she befriends some of the waitresses who help her find her sense of self worth and help her become self reliant and independent. She also begins a romance with a sensitive local rancher named David who could be a good influence on Tommy who, besides needing a father figure, needs better moral guidance, especially when he starts hanging out with a delinquent tomboy named Audrey. The opening sequence is a highly stylized homage to things like The WIzard of Oz, Duel in the Sun, and Gone With the Wind, but the rest of the film becomes something typical of the New Hollywood era, featuring the raw, realistic immediacy of location shooting, heavy amounts of improvisation, and a killer soundtrack. The film is a great look at real people dealing with real problems, but I think it's kinda overrated. I think Scorsese was an inspired choice for a film about a woman's independence, because the proceedings avoid being weepy treacle, and are instead quite gritty, like most of his 'typical' films. However, the film is maybe a bit too real, which results in a sometimes uneven mix of varying emotions. Plus, the kid actor is annoying. It's a strong performance, sure, but I really didn't care for that kid, even if it is a convincing portrayal. Burstyn is great though, and it is a tough role. Keitel's turn is brief, but also memorable. I was surprisingly not blown away by Diane Ladd as the sassy waitress Flo, but I do feel that one of the best things about the film is Kristofferson as David. I think he's great if only for the fact that he's an atypical character for a Scorsese picture. It was cute seeing Foster as Audrey, but her shtick wears out fast, and doesn't really seem to go anywhere anyway. I do think the film is well shot, edited, and scored, but that shouldn't be surprising. The southwestern locales are terrific, and I love how, even though this is PG, it's a "70s PG", so it is more raw than most PG films are in the 21st Century. Don't get me wrong. I do like this film. It's really good, deserves respect for its treatment of the subject matter, and is a great example of what I love about 70s cinema, but I just didn't get blown away by it, Maybe I just wasn't quite in the right frame of mind, or maybe I've just seen too many films like this already, but I don't think it's quite as good as everyone else does. That doesn't mean you shouldn't see it though, because you totally should.
Chris Weber
Super Reviewer
Robert Getchell's script was nominated for an Oscar and it's ingenious in the way it fashions everyday difficulties into an intimately engaging saga. Coming at the end of 1974, the film touches on themes popularized by Betty Friedan's The Feminine Mystique published a decade before but still very much a part of the ongoing women's movement at the time. At first Martin Scorsese might seem like an odd choice to direct this ode to female independence. Scorsese wrings real drama from the simplicity of this woman's drive to succeed against increasingly insurmountable odds. But this is not some weepy women's picture. Scorsese brings grittiness to a narrative that could have slipped into treacle. His direction is self assured. What could have been heavy-handed is rendered as a genuine portrait of a person in crisis. There is an utter commonality to the proceedings. It speaks to both men and women. There isn't a false note in the entire 112 minutes. What truly makes the drama powerful is the magnitude of Ellen Burstyn's Academy Award winning performance. Alice Hyatt is a testament to the human spirit. It's clear why Alice Doesn't Live Here Anymore remains one of the enduring classics of 70s cinema. It just gets better with age.
Mark Hobin
Super Reviewer
Alice Doesn't Live Here Anymore Quotes
There are no approved quotes yet for this movie.