Alice Neel
(2007)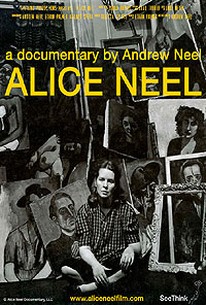 Movie Info
Portrait painter Alice Neel (1900-1984) was a self-described collector of souls who recorded her sitters on canvas through six decades of the 20th century, among them Andy Warhol, Bella Abzug, Allen Ginsberg and Annie Sprinkle. Neel always sought the "authentic," moving from Greenwich Village to Spanish Harlem just as the Village was gaining reputation in the art scene. She sacrificed almost everything for her art, delving so far into the psyches of her sitters she would almost lose herself. Yet Neel was also a dedicated mother, raising two sons in the bohemian world she inhabited.
Critic Reviews for Alice Neel
Audience Reviews for Alice Neel
I like a lot of Neel's work, so I enjoyed this. The documentary has something to say to anyone, regardless of your feeling about Alice Neel or her work. Fascinating, disturbing, and inspirational, all at once.
Morris Nelms
Super Reviewer
[font=Trebuchet MS][size=3]Alice Neel is one of the best films of the year, and surely will be a top contender for the Best Documentary Oscar.[/size][/font] [img]http://www.seethink.com/images/ALICE%20POSTER_web.jpg[/img] [size=3][font=Trebuchet MS]I walked out of the theater on cloud 9. It was as if the spirit of Alice Neel, who's been dead for some years now, reached out from the screen and wrapped her loving arms around all of us. Her spirit filled the theater.[/font][/size] [size=3][font=Trebuchet MS]Her grandson, who made the film, has given her an astonishingly beautiful and serious tribute. It doesn't romanticize unduly. Neel's failings are put clearly on the table. Her parenting skills, for example, were to some degree deplorable. Her sons talk on camera a lot, and while it's perfectly clear that they loved her tremendously, their anger about certain things is also transparent. A particularly ugly episode had her turning a blind eye while a boyfriend of hers was recurringly abusive toward one of her sons.[/font][/size] [size=3][font=Trebuchet MS][img]http://www.virginiamiller.com/gallery/News/images/Alice-Neel.jpg[/img][/font][/size] [size=3][font=Trebuchet MS]The film doesn't just talk about her life. It also is a sumptuous artistic feast. Something on the order of 100 paintings are photographed carefully, so you can sit back and revel in these gorgeous and sometimes painful paintings, as the speakers talk. The music is also beautiful and fits wonderfully with the visuals.[/font][/size] [size=3][font=Trebuchet MS]It's not a perfect film though. I did feel in the middle that it was wandering around unsure of where it was going. But it eventually gets itself back on track.[/font][/size] [size=3][font=Trebuchet MS]One particularly noteworthy thing about Neel as an artist is how she spurned the art establishment and never did any hobnobbing. She left Greenwich Village (which was the epicenter of painting in the 1950s) and moved to Spanish Harlem "to paint real people" and to dwell with them. She was such a committed artist, that she wouldn't cater to the art establishment. It was all about the painting for her, not the building of a career. I found that ferocious integrity to be inspiring.[/font][/size] [size=3][font=Trebuchet MS]In the end she did become a star, but only in her last decade of life. There's one amazing scene where Andy Warhol himself bursts into the room to shower her with praise and kisses. She appeared to know him personally by that time and to adore him. But oddly, at no time in the film is his name even mentioned. In fact she never talked about other artists at all, and it doesn't appear she ever went to see other people's work. She stayed in and around her uptown apartment painting people from the neighborhood day and night.[/font][/size] [size=3][font=Trebuchet MS]She said painting was "an obsession" for her.[/font][/size] [size=3][font=Trebuchet MS]If there's one art-house film you see this year, make it Alice Neel.[/font][/size]
William Dunmyer
Super Reviewer
Alice Neel Quotes
There are no approved quotes yet for this movie.