Alien Visitor
(1995)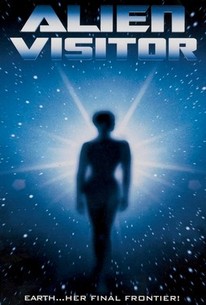 AUDIENCE SCORE
Critic Consensus: No consensus yet.
Movie Info
A beautiful alien is sent from the planet Epsilon to pass judgment on the shameful way in which humans have mishandled their planet. Set in a near future in which humanity has made great strides in cleaning up the Earth, it begins as a grandmother tells her granddaughters a story from the past. Her tale begins in the desert outback during the dark times when people were actively ruining their planet. The naked alien is placed upon the desert where she eventually meets a surveyor who quickly gives her some clothing. As the two travel across the land, the alien constantly admonishes him for his race's carelessness and greed. She informs him that other intelligent life forms consider humans hopeless failures. Using her ability to travel instantly to any of Earth's locales, she takes the bewildered surveyor on a whirlwind tour to prove her point. ~ Sandra Brennan, Rovi
Rating:
PG-13
Genre:
,
Directed By:
Written By:
In Theaters:
On DVD:
Runtime:
Studio:
Miramax
Critic Reviews for Alien Visitor
All Critics (1) | Fresh (0) | Rotten (1)
Don't let the title fool you: despite an otherworldly jumping-off point, this is a plodding, pretentious, and painfully preachy drama.
Audience Reviews for Alien Visitor
½
This is a very intelligent dialog. you have to watch twice to really understand the effect. spoiler alert... what most come off as preachy environmentalism is not. It mostly has to do with her own drama that she was left on a planet considered to be the backwater of the universe by most space cultures. we are instantly defensive about this which makes this appear to seem like something else is going on instead of something deeper. she is more upset than she seems because she felt she was abandoned by her people till she comes to understand the man. The same goes for him. It is a classic drama that we come from two points of view and perspectives and their initial encounter does not go well. they both do and say things that they wish they could change. after their initial parting and they both go off and have time to think things out. like most they want to go back and do and say something different but our own arrogance and adhesion to our point of view gets in the way. after time we learn to let go and see the goodness in the events instead of the negative. then you find out she has the ability to go back and change the way things happened. she returns in the past to change her path with him. she is resigned she is probably stuck there forever. that self realization allows her to change her behaviors and he in turn his. like two marooned people on an island they eventually deal with their issues and can let go of the past and start on the future. this is short lived when her people come back for her. she then disappears before they can truly say good bye. both are changed forever. what seems like a very bland performance has tons of undertones. and i dont think a lot of people appreciated them. i did. it is what makes you really think deeply about the movie not just what seems like surface events but a lot deeper. i think the director did a great job not using much emotion. the silence allows you to do more than make a single point. it should make you think a little differently. we mostly have a fixed point of view and that is the basis we use when over events happen around us. this shows us that we could be more open to initial experiences and not rely on our point of view so rigidly. change would be more easier if we looked at it this way. her flippant unemotional performance was not bad acting but came from a more calm and flexible way to perceive our surroundings. to point out the conservation message, we all know things are not right and perfect in the world, nor can they truly be a utopia. but, we cannot just keep putting our heads in the sand. eventually things will catch up to us and we will have to pay for what we have done to the planet. we change the face of our planet without thinking we are doing any damage. you cant constantly leave a mess in your house and not clean up without eventually destroying it. my other opinions... as we ask ourselves what can i do, i am just one person i cant make a difference when millions dont try either. it is true, but we can always do more than we think, we must try. not just for our sake, but for our children and their generations to follow. it is time for humanity to look beyond our mere selves and our immediate lives. it is time we look to the future. we cannot hope to progress if we say we cannot do it. we must eventually take responsibility for our own actions. the past is the past and make a clean break to fix the future. we must take it upon ourselves to do better. if not then maybe it is time for our species to hang it up. i dont believe so. humanity has a lot to offer. we must work and strive through tough times without loosing our vision. it takes work and determination and cannot be done sitting down. we cant be afraid to try something and fail. we learn and try better the next time. that is how we survive. that is how we have evolved. we can no longer let our impulses and urges govern and let our minds be an equal partner. we owe it to those who came before us, striving to make a better life and society for all. it is time to take that dream further. it is our time. we must change our behavior and move forward together.
Lewis Paulakos
I just saw this movie on IFC channel. It was very well done. It is a romance, a sci-fi, and makes an environmental statement. I found it made me think about a lot of issues from a different point of view. If you like a movie that makes you think this is a great movie.
James Gatcomb
Alien Visitor Quotes
There are no approved quotes yet for this movie.