AVH: Alien vs. Hunter
(2007)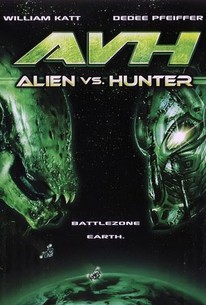 AUDIENCE SCORE
Critic Consensus: No consensus yet.
AVH: Alien vs. Hunter Videos
AVH: Alien vs. Hunter Photos
Movie Info
When an interstellar bounty hunter and a malevolent alien crash-land in a small town, the terrified locals bear witness to a fight the likes of which few humans have ever seen. Alien vs. Hunter stars William Katt.
Rating:
R
Genre:
,
Directed By:
Written By:
In Theaters:
On DVD:
Runtime:
Studio:
The Asylum
Audience Reviews for AVH: Alien vs. Hunter
½
One of the Asylum's more obvious mockbusters. The film can't keep up with its characters, nor can it properly develop them. We're constantly jumping around without any in-between or explanation. The alien is cheap looking, but not as cheap as the hunter. The twist ending is so cheesy, it's best left unspoiled.
Wes Shad
I only watched 10 minutes, what a shit movie. Terrible acting, horrible graphics. Seriously, after seeing only that much of the movie, I know for a FACT I will never try to finish it. What a fucking waste.
Mike Wilcox
I subjected myself and a couple of buddies to this painful travesty at the request of another -- suspiciously absent, I might add -- friend. I noticed the box proudly touted "better than Aliens vs. Predator!" It didn't hit me at the time, but that quote meant absolutely nothing. Moreover, it's a lie. They could've dredged up some positive statements like "will not rape your grandfather!" or "isn't racist at dinner parties!" for the box without boldly lying to me. The reason Aliens vs. Predator exists, for better or worse, is because the featured monsters are themselves scary and interesting. AvH skips the initial set up movies generally created for such match-up flicks and goes straight to copying the bout itself. You can't do that! That would be like making a Frankenstein Meets the Wolfman clone, calling it Brankenstein Meets The Wolfperson, and expecting people to not shit all over your film. I'm not going into specifics as to why exactly this movie sucks so bad, because I knew this was going to be a piece of shit going in. I just wasn't prepared. Goddamn you for suggesting this film, Gabe and box!
John Pickering
AVH: Alien vs. Hunter Quotes
There are no approved quotes yet for this movie.