Alien 3000
(2005)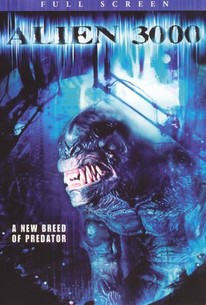 AUDIENCE SCORE
Critic Consensus: No consensus yet.
Movie Info
The only key to solving the riddle behind a shocking crime might be finding a woman who was driven mad by the tragedy in this horror story. A handful of college students are killed and mutilated during a camping trip, and the authorities, concerned about the gruesome crime, call in a secret military unit who has been trained to track information on unusually violent crimes. When their time-tested techniques of forensic science and aggressive interviewing don't bring results, the military authorities call upon the only survivor of the attack for help. However, Kate (Megan Molloy) was severely traumatized by the killings, and has been committed to a mental institution; can they find a way to break her out of the asylum so she can come to their aid? Produced as a sequel to the 1999 thriller Unseen Evil, Alien 3000 (aka Unseen Evil 2) also stars Lorenzo Lamas and Priscilla Barnes.
Rating:
R
Genre:
,
Directed By:
Written By:
In Theaters:
On DVD:
Runtime:
Studio:
LionsGate Entertainment
Critic Reviews for Alien 3000
All Critics (1) | Fresh (0) | Rotten (1)
Formerly known as Unseen Evil 2, and forgive me for using such a dorky movie critic joke, but "unseen" is precisely what it should remain.
Audience Reviews for Alien 3000
½
Alien 3000 is non-stop, action packed, fun-filled hilarity, which many don't know to be the sequel to Unseen Evil, another equally bad film. This one pretty much follows in its predecessor's footsteps to a tee as random folks comprised of military and campers are slaughtered one by one by an unseen ghost alien that's invisible (a la Predator), yet when you DO see it, it's a highly bad computer graphic that makes you think this film is from the early 90's when in fact, it was made a mere few years ago (the same problem is prominent in the first film as well). I swear, a horror movie has never made me laugh so hard, so unintentionally. It's got Lorenzo (I'll do anything for a paycheck) Lamas in it, top-billed, and he's in the movie for barely a minute. Priscilla Barnes is wasted in the film as well, playing some government baddie or whatever. This time, director Jeff Leroy takes over the reigns whose also done his share of bad films (Creepies, Werewolf in a Women's Prison, etc) and is not opposed to using several instances of recycled stock footage from the previous film. Fact of the matter is this movie goes beyond being hilarious bad! Greatest line in a movie EVER: "Why don't you go fuck a squirrel, nature boy!"
Jason Duron
½
The creature on the cover doesn't even match the creature in the movie! Kudos for putting some detail into the creature.... even though it is a complete rip off of the Predator. Fun splatter scenes, but the plot just went EVERYWHERE! Somehow I think this creature was an alien stuck in a cave and killed anyone who touch the cursed gold... but then I think that plot is abandoned and turned into just an alien invasion? It's lame, worst than sci-fi channel movie. Avoid.
Kristy Olsen
I'm just really into the Family Guy mood today. These little 'presents' have been waiting on the back burner for a few days. [center]X-Treme Fighter[/center] [left]10 world champions. 25 colossal fights. Only one movie can contain them all. That or the cutting room floor of a 'real' studio where they make 'good' movies. All this movie contained was unattractive people in a stupid video game fighting people. Even though they are all world champions, only one of them looked like he could kick butt. I'm no expert, but when your film credits include Meadow Ninjas, you got problems.[/left] [center]Alien 3000[/center] [left]It is not an alien, and it has nothing to do with 3000. I think they just picked a random word and a random number before they realized that this was a sequel movie. I didn't even know it was. A movie is bad when the effects don't match, a movie is horrendous when your monster is invisible for most of the film and the box cover art is not the same but from another movie called Breeders. Most of the dialouge is limited to 4 letter words, and even then they don't use all of them. Oh and copying a scene from ID4 makes you really cool.[/left]
Craig Pfisterer
Alien 3000 Quotes
There are no approved quotes yet for this movie.