Alien Abduction
(2014)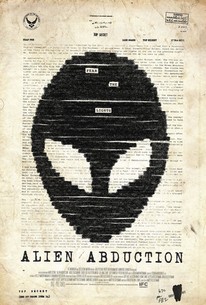 Movie Info
A vacationing family encounters an alien threat in this pulse-pounding thriller based on the real-life Brown Mountain Lights phenomenon in North Carolina. (C) IFC Films
News & Interviews for Alien Abduction
Critic Reviews for Alien Abduction
Audience Reviews for Alien Abduction
Why do I keep doing Found Footage Horror to myself? Entries to the genre are frequently bad, and frequently boring, both of which Alien Abduction absolutely is, but more than anything, it's dumb. It's really, really dumb. The characters try to convince their parents (twice) that some crazy jazz has gone down, but never use the VIDEO FOOTAGE THEY HAVE OF IT to convince them (but later do exactly that to convince a complete stranger off screen). I could sit here and list logical inconsistencies about "Alien Abduction" all day (there is... A lot) but instead I'll give you just one. And it may sound like a spoiler, but the the fact that it's not one is why it's so stupid. Because it's the film's opening. Literally. The very first scene of the film ruins the end "scare". You are supposed to think the protagonists have escaped and are safe without ever getting abducted, but you already know they can't be, because THE FIRST THING YOU SEE IS THEM ON AN ALIEN SPACECRAFT and then it jumps back in time. Save yourself the trouble of putting up with Alien Abduction and skip it all together..
½
Alien Abduction is a rather innovative found footage film that delivers some frightful scares, but it's unable to avoid the trappings of the genre. The setup is that of a recovered home video that was made by a child who followed his family's camping trip in the Brown Mountains, which turned into a struggle for survival against alien abductors. And, this is intercut with interviews from paranormal experts who explain the history of UFO activity in the Brown Mountain region. While it starts out rather interesting and has some intense moments, the film quickly degenerates into a generic "cabin in the woods" scenario with the characters holding out in the middle of a creepy forest. Additionally, the acting isn't that good, particularly the cabin owner; who couldn't be more of an outdoorsman stereotype. Though it gets points for creativity, Alien Abduction isn't able to escape the classic horror movie tropes.
Dann Michalski
Super Reviewer
Aliens and the effects were cool, Actors were weak, idea is great but lacked some effort, still cool.
Shawn Montague
Super Reviewer
Alien Abduction Quotes
There are no approved quotes yet for this movie.