Alien Blood
(1999)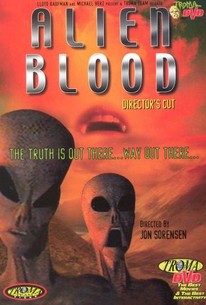 AUDIENCE SCORE
Critic Consensus: No consensus yet.
Movie Info
From British director John Sorenson comes this terrifying tale of a mother's will to protect her daughter and unborn child from menacing supernatural forces by any means necessary. Pursued through rural England by a trigger-happy sharpshooter named Jouvet (Glyn Whiteside) and a band of white-masked assassins, pregnant Helene (Francesca Manning) and her daughter Monique (Rebecca Stirling) break into a house overrun with bloodthirsty vampires. Determined to defend her children from danger, motherly instinct soon kicks in and Helene goes on a blood-splattered killing spree the likes of which this planet has never seen.
Critic Reviews for Alien Blood
There are no critic reviews yet for Alien Blood. Keep checking Rotten Tomatoes for updates!
Audience Reviews for Alien Blood
Viewed on Troma tripple B Header- Vol 5 disk far this one has bored the hell out of me. I don?t even know if there was any audio the first half hour of the movie (maybe it didn?t record well on the?re-mastered? disk (or the power went out again the cable box?s volume isn?t up) I think its something to do with Aliens & Vampires or the Aliens are vampires no idea of the w?s Who what where when or why. (no backstory to have a clue, Plot? Let me know if you ever figure it out. F
Kym (c my community profile) Salvatore
Super Reviewer
To be fair, I only watched about 15 minutes of this movie and then fast-forwarded through the rest. It didn't look like anything interesting happened anyway. God, I hate this fucking movie. This is far below even Troma's standards.
Shawn Wolfe
An alien mother on the run with her child takes refuge in a country house where the residents are having a New Year's Eve fancy dress party on the last night of the 20th century, hoping to lay low until her people come to get her. However, the government agents pursuing her lay seige to the house, and a night of gunfire and gory psychically-induced violence follows. To describe this movie as a mess is a generous. We've got alien mothers and kids on the run from a band of killers whose assocation is impossible to discern--they certainly don't behave like government agents. We also have the giant alien space ship that eventually shows up to rescue our mom and child on the run... but this ship could have collected them anywhere, so why weren't they hiding more intelligently is a question that occurs to the viewer, but that the film also doesn't answer. And the people in the house where the alien hides out? Well, they [i]may[/i] be vampires, but they may also just be a group of decadent country gentry playing dress-up; it's not clear in the film. "Alien Blood" has some interesting visuals in it, and some so-so special effects, but that's about it. It is almost totally devoid of plot, what what we are left with isn't interesting enough to be worth the 80 minutes you'll lose of your life watching it. Alien Blood Starring: Glyn Whiteside Director: Jon Sorenson
Steve Miller
Alien Blood Quotes
There are no approved quotes yet for this movie.
Discussion Forum
Discuss Alien Blood on our Movie forum!