Alien From The Deep (Alien degli abissi)
(1989)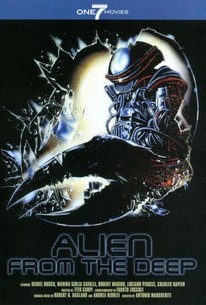 AUDIENCE SCORE
Critic Consensus: No consensus yet.
Alien From The Deep (Alien degli abissi) Videos
Alien From The Deep (Alien degli abissi) Photos
Movie Info
An environmental activist teams and a reclusive snake farmer encounter a horrible new life form while attempting to expose a high profile chemical company that's been dumping toxic sludge into an active volcano. The owners of the corrupt corporation thought that the jungle would be the perfect cover for their shady dealings, but nature is about to strike back. Just as the two fearless explorers uncover the evidence they need to bring the company down, a new life form born of magma and biohazardous material emerges to teach mankind the dangers of toying with Mother Nature.
Rating:
NR
Genre:
,
Directed By:
Written By:
On DVD:
Runtime:
Studio:
One 7 Movies
Critic Reviews for Alien From The Deep (Alien degli abissi)
All Critics (0) | Fresh (0) | Rotten (0)
Science Fiction, Horror and Fantasy Film Review Database
Science Fiction, Horror and Fantasy Film Review Database
Audience Reviews for Alien From The Deep (Alien degli abissi)
Italian director Antonio Magaretti is quickly becoming my all time favorite guilty pleasure directors. Unlike his director brethren Mario Bava and Dario Argento, Magaretti wasn't concerned about making critically acclaimed genre films. He was perfectly happy making B-movies and B-moves he made well. I can honestly say was never not entertained by any of his pictures, no matter what genre. "Alien from the Deep" proves that even at the tail end of his career, even with the Italian film market floundering, that he was still able to craft likeable B-movie adventures. Like a number of his later films "Alien From the Deep" takes an environmental slant when two members of green peace sneak onto an island in order to video tape footage of a corporation dumping toxic waste into a volcano (well shit, that can't be good). Out of nowhere an alien meteor crash-lands in lake near the volcano and soon an alien breaks loose, causing lots of explosions and death. The plot structure of this film is extremely awkward. It starts off like typical Magaretti jungle adventure with Macaroni Combat influences sprinkled in then at the 45 minute mark, an alien shows up. I literally forgot there was even supposed to be an Alien in it all by the time it fucking made its appearance! Due to the Alien not showing up until halfway through, the last half is on fast forward as all the plot elements about the Alien are quickly thrown at the audience. We literally learn that it's bio-mechanical, immune to almost everything and only harmed by hydrogen in a matter of minutes. Typical with Magaretti films the special effects are rather shotty but loveable at the same time. We get poor miniatures and the Alien is mostly shown as a giant 'claw' that likes to squeeze people and then let it's slime mutate their skin. When the full alien is revealed in the climax it's obviously influenced by the final confrontation in James Cameron's "Aliens". Our sexy heroin even fights the beast only clad in underwear (a tribute to Sigourney Weaver in "Alien") and fights the beast with a construction loader, similar to the forklift battle in "Aliens". The cast is all likeable, despite having silly dialogue to spout out at each other. Julia McKay is lovely to look at and her love interest Bob (Daniel Bosch), a snake farmer forced to aid her in her quest, is surprisingly charming. Of course veteran American actor Charles Napier steals the show as Col. Kovacks, the leader of the illegal dumping operation. He, like most bad ass American actors in Margaretti films, is underused and isn't given much to do other than bark orders over computer consuls. "Alien from the Deep" is an enjoyable B-movie venture. Good? Hell no (mostly due to its odd story structure) but it has that loveable Magaretti charm that his films always endure. I put off buying "Alien from the Deep" due to its steep retail price on DVD ($26.99!) but scored a used copy for less than half that. For me it was worth the cash and it will be for you too if you enjoy Italian trash.
Eric Reifschneider
Alien From The Deep (Alien degli abissi) Quotes
There are no approved quotes yet for this movie.