Alien
(1979)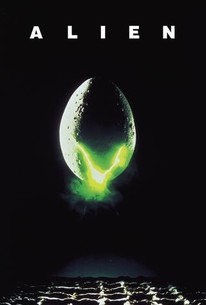 Movie Info
"In space, no one can hear you scream." A close encounter of the third kind becomes a Jaws-style nightmare when an alien invades a spacecraft in Ridley Scott's sci-fi horror classic. On the way home from a mission for the Company, the Nostromo's crew is woken up from hibernation by the ship's Mother computer to answer a distress signal from a nearby planet. Capt. Dallas's (Tom Skerritt) rescue team discovers a bizarre pod field, but things get even stranger when a face-hugging creature bursts out of a pod and attaches itself to Kane (John Hurt). Over the objections of Ripley (Sigourney Weaver), science officer Ash (Ian Holm) lets Kane back on the ship. The acid-blooded incubus detaches itself from an apparently recovered Kane, but an alien erupts from Kane's stomach and escapes. The alien starts stalking the humans, pitting Dallas and his crew (and cat) against a malevolent killing machine that also has a protector in the nefarious Company. ~ Lucia Bozzola, Rovi
News & Interviews for Alien
Audience Reviews for Alien
½
A fantastic blend of sci-fi and horror, incredibly suspenseful and carefully elaborated with a perfect pacing. Scott knows very well how to slowly build a disquieting tension and elevate it to the point of nerve-wracking, and this film is a genuinely scary modern classic.
Carlos Magalhães
Super Reviewer
It's a rare thing for horror films to get much critical praise and respect, but once in a while that changes. This was especially true in the 1970s thanks to films like The Exorcist, Jaws, Halloween, and, this little entry from 1979: Alien. It's a simple, even generic, but ultimately brilliant title. It works as both a noun and adjective, and really leaves things wide open in terms of what's going to happen. The plot is rather simple: a group of workers aboard a commercial towing vessel headed back home have their journey interrupted by a mysterious transmission from a nearby planetoid. They stop to investigate, only to end up bringing an extraterrestrial threat back on board their craft. The film is basically like a slasher movie in space, and essentially established the modern notions of the 'space horror' subgenre. It's a rehashing of old ideas and concepts, but it's done so well that it feels totally fresh and new. What I really like about this is how it is firmly both sci-fi and horror. It blends the two quite well, and is a landmark entry in both realms. It's a slow burner, w emphasis mainly on mood, tone, atmosphere, and generating tension and suspense over a strong plot or actions and events. That might seem boring to some, but I rather enjoy its hypnotic qualities, as they draw you in, ramp things up to a high level, then finally release in bursts of scares. I think it's worse it to sit through the first half because, even though not much really happens, it only makes the second half (especially the final act) that much more thrilling and rewarding. From a technical perspective, this film is a real marvel, and its influence can be seen in a lot of avenues from films to video games like the Metroid series. There's expert use of matte paintings, practical effects, models, and real ingenuity versus reliance on CGI, and it's cool how this won an Oscar for visual effects. The cinematography is dark, moody, and really adds a level of dread to the claustrophobic environs of the ship. I really dig the art direction and set design. The use of shadows, steam, and flashing lights also add to the creepy atmosphere, and make things quite intense and disorienting. I tend to overlook the importance of sound design in movies for some reason, but here, I can't help but get drawn in by all the hissing from steam, dripping corridors, and beeps and boops from the computers. Yeah, some of the technology seems a bit dated, but I think it has a nice, surreal charm to it. The ship also has a rugged, lived in look to it that makes things seem more authentic and believable. And then there's the alien: simply put: the creature designs by H.R. Giger are creative, intense, original, and some of the scariest and most unique ever conceived. In a lot of films like this, the cast are made up of a bunch of unrealistic stereotypes that often seem out of place, but here the crew is just a group of working class blue collar folks, with the youngest being 29. I think this adds both to the realism, and makes things quite relatable. The cast have good chemistry with one another, and it all feels organic instead of forced. The acting is also fine. It's nothing spectacular, but it does get the job done. I mean, since they're just regular folks, its fitting that they're performances are not all that remarkable. I do have to give special praise though, first to Ian Holm for being terrifically creepy, and to Sigourney Weaver who, as the youngest and least experienced of the cast, had a big hurdle to jump through, and succeeded, becoming a star as a result. Jerry Goldsmith's score is compelling, and the heart beat like thumping during key scenes is a real nice touch. Ridley Scott provides some superb, subtle directing, showing a real flare for building tension and mood. I like how not a whole lot of exposition is given, leaving the viewer to fill in the gaps. I do think that at times things could be perhaps slightly tightened in the pacing department, and the damn cat that is a part of the crew is a tad annoying, though cute, but overall, I don't have any major issues with this one. I recognize that this won't appeal to all audiences, as it is a deliberately paced and executed affair, but at the same time, due to how well a lot of this is done, and because of its legacy, I think it is one that everyone needs to see. It holds up remarkably well, and is a pretty memorable experience, so of course it is a must see. I prefer the theatrical cut, but the 'director's cut' has a few nice added moments, though the overall pacing is thrown off a tad.
Chris Weber
Super Reviewer
Alien Quotes
| | |
| --- | --- |
| Parker: | Why the hell don't you guys just freeze him? |
| | |
| --- | --- |
| Parker: | If we ain't out of here in ten minutes, we won't need no rocket to fly through space! |
| | |
| --- | --- |
| Parker: | I ain't drawing no straws, I'm for killing that goddamn thing right now. |
Discussion Forum
Discuss Alien on our Movie forum!