Alien Uprising
(2008)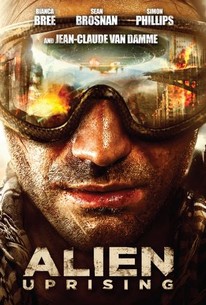 AUDIENCE SCORE
Critic Consensus: No consensus yet.
Movie Info
Alien Uprising pays homage to the mother of all monster-in-outer-space sci-fi epics, Alien. Directed by Andre Bellware, the story opens with a group of marines sent to suppress a riot at a prison space-colony. When they get there, they find scenes of carnage caused not by rioting prisoners, but by a mutant creature that is still on board the ship -- and it's up to Lt. Louise Dunn (Rebecca Kush) to lead the marines and prison survivors to safety. ~ Sandra Bencic, Rovi
Critic Reviews for Alien Uprising
There are no critic reviews yet for Alien Uprising. Keep checking Rotten Tomatoes for updates!
Audience Reviews for Alien Uprising
Single worst movie I have ever seen. There is a fight scene about half-way through, which dwarfs even the worst of all bad-horror-flick murder scenes with its absurdity, its lack of creativity, and its profound stupidity. It was so bad, I feel physically bad having watched up to that point. I had to turn it off. Gave it 1 star on Netflix, and would have given it 0.0001 stars if I could have. Absolutely awful. Do not waste your time on this garbage.
Max Pad
One line summary: This was one of the poorest indie films I've seen from the UK. One star of five. Black holes for acting, screenplay, SFX ------------------------------------------ The main characters are Carrie and Michael (just met, but getting along well), Robin and Dana, who have just become engaged, and Vincent, who has just broken up with his girlfriend. After a bender at a local club, the five of them get together the next morning. The electric is out, their telephones are off, both cell and land line, the AM and FM radio stations are down. The military has claimed and drained all local petrol, almost all shops are closed. There are alien somethings all around. Two military men with a bazooka take down an alien. An old crazy with a gun challenges the same military, who proceed to kill him. He fires as well, as he goes down, and kills Robin. Michael talks the military into giving them a lift (they are corporals, he had been a lieutenant). They contact George, who has some good intel from his old days at area 51. They find that there are alien imposters among them. They identify Carrie as one of them. Things get testy after that. Even worse, the real people turn on each other. Will anyone from the beginning survive? How about the human race? -------Scores--------- Cinematography: 4/10 There was way too much shaky camera work. Sound: 8/10 OK, though sound levels get out of bounds now and then. Acting: 1/10 Jeez, terrible. JC van Damme was by far the best, but he did not have all that many lines. Screenplay: 2/10 Showed early promise, then went down hill. Badly. SFX: 0/10 Bad, terrible, looks poor as in 1970s poor.
Ed Collins
½
Take the Nostromo from Alien, the marines from Aliens, and the prison planet from Alien 3... And you've got the first seven minutes of the movie. it's too obvious to be considered a rip-off. If you can tolerate low-budget military sci-fi, this may be worth a look into.
Alex Carawan
Alien Uprising Quotes
There are no approved quotes yet for this movie.
Discussion Forum
Discuss Alien Uprising on our Movie forum!