All the Invisible Children
(2005)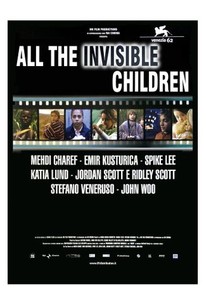 AUDIENCE SCORE
Critic Consensus: No consensus yet.
All the Invisible Children Photos
Movie Info
Omnibus films attained renewed popularity during the 1990s and 2000s; this particular seven-episode film-a-sketch arrived during that period, and involved several top-tiered international filmmakers including John Woo, Spike Lee, Ridley Scott, Emir Kusturica and three others. Each helmer was asked to shoot a segment of between 16-18 minutes in length, for UNICEF, on the subject of exploited and/or underprivileged children around the world. The package opens with "Tanza," helmed by Algerian novelist-cum-filmmaker Mehdi Charef and shot in Burkina Faso. It concerns the 12-year-old female title character - an adolescent freedom fighter - who trollops through the countryside accompanied by young male guerilla fighters who spout off deliberately nonsensical English-language dialogue. Kusturica takes the reins for the second segment, "Blue Gypsy," an overtly comical episode in the vein of Time of the Gypsies about a precocious young boy who makes the split from his alcoholic father and thieving family and goes to live in a juvenile detention center, finding it preferable to home. The third episode, helmed by co-producer Stefano Veneruso and entitled "Ciro," recalls neorealismo with its Naples-set tale of a young boy unloved and systematically neglected by his mother, who resorts to spending time with other neglected children and stealing watches, and then gets caught in the direst of ways. The fourth segment, Spike Lee's delicately-handled "Jesus Children of America," stars Hannah Hodson as Blanca, a young Brooklynite ostracized by her peers because her parents are junkies; when she learns of her HIV-positive status, her world crumbles. For the 5th episode, "Bilu and Joao," Brazilian director Katia Lund casts child actors Francisco Anawake de Freitas and Vera Fernandes as two impoverished tykes whose days involve walking around the outskirts of Sao Paulo and pulling a wooden cart, into which they pile aluminum and paper - but do so joyously, with the courage and grace of two individuals delighting in subhuman work despite the direst of circumstances. For the sixth segment, "Jonathan," Ridley Scott teams up to co-direct with daughter Jordan Scott; the episode stars David Thewlis (Naked) as an emotionally-traumatized war photographer who encounters a band of Eastern European orphans. And the closer, John Woo's "Song Song and Little Cat," studies the contrast between the lives of two young Asian girls from polar opposite ends of the socioeconomic spectrum: Oi Ruyi is Little Cat, an abjectly impoverished child discovered in the garbage, during infancy, by a homeless man; she grows up helping her discoverer forage for victuals until he dies, leaving her aimless and bereft. Woo cuts between her story and that of Song Song, a wealthy and pampered little girl whose story is equally tragic in its own way, as her parents are undergoing a bitter divorce. Though this film, as indicated, enlisted the support of at least two major Hollywood directors (Scott and Lee) it did encounter extreme difficulty securing U.S. theatrical and ancillary distribution, which effectively kept it out of North America in the years that immediately followed its global release.
Critic Reviews for All the Invisible Children
There are no critic reviews yet for All the Invisible Children. Keep checking Rotten Tomatoes for updates!
Audience Reviews for All the Invisible Children
½
It took me 9 years to finally get this anthology film on the theme of childhood and exploitation. It is a collection of seven short films presented as an omnibus, each segment focused on a different child. This is the world we live in compressed in 116 minutes. This masterpiece premiered at the Venice Film Festival on 1 September 2005... don't ask me why masterpiece... did you ever had a chance to watch a single movie directed by greats like Mehdi Charef, Emir Kusturica, Spike Lee, Katia Lund, Jordan Scott & Ridley Scott, Stefano Veneruso and John Woo!? All the Invisible Children is a concept of producer Chiara Tilesi and together with Stefano Veneruso, her producing partner of MK Film Productions, they worked together in the realization of this work of exceptional film art! Each of the authoritative directors narrate, through their own personal perspective, unique stories about the children's condition in their part of the world. From the child soldier who is instructed to blow up a building but finding out that it is a school, he decides not to do it, we understand what WE brought on these innocent children through our twisted societies values, our behaviour and demands of this world, and all that continues throughout the movie - in Serbia a boy is released from a juvenile detention centre, and he wants to be a barber but his father forces him to steal again... in U.S. a couple is addicted to drugs and infected with HIV, and they have a daughter who is also infected, and bullied for that at school... In Brazil a boy and a girl earn money collecting empty cans, cardboard, etc., for recycling, but they always finish when they started... in U.K. war photographer looks back at his youth... in Italy two boys steal a watch from a person in his SUV while waiting in traffic, and sell it to a man working in an amusement park, for money and free rides... in China an old man finds an abandoned baby and becomes her guardian, but when he dies she ends up being taken in by a man who has a group of children, that has to work for their food and to sell flowers on the street and every night return to give the daily earnings to the boss... Everything in this omnibus is almost perfect... even the little faults are perfectly suited to the moments... please, do not miss this one... it is sad that there is no critic on RT who saw this. It took me 9 years to get it, but it was worth the wait!
I just don't know what to say. This movie was (aside from a few obvious moments) so real that it made your heart bleed. It made you grip tightly to anything nearby and hope that things would get better for these kids. But you knew it never would. Oh yes, it's beautiful to watch the kids pulling together and making the best of it. But nothing detracts from the sheer horror of their lives. How can we fix this? How?
Angela Alcorn
Super Reviewer
All the Invisible Children Quotes
There are no approved quotes yet for this movie.
Discussion Forum
Discuss All the Invisible Children on our Movie forum!