All Thumbs
(2002)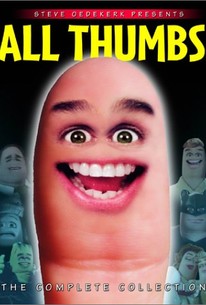 AUDIENCE SCORE
Critic Consensus: No consensus yet.
Movie Info
There's thumbthing for everyone in this 6 DVD box set from writer/director Steve Oedekerk (Kung Pow: Enter the Fist, Jimmy Neutron, Ace Ventura)! Includes "Bat Thumb" (2001, 28 min.) - Super hero Wuce Bane and his sidekick Blue Jay must save Gaaathumb City from the evil, despicable, and poorly dressed "No Face." "The Blair Thumb" (2001, 28 min.) - A clever tale about three thumbs who encounter terror during their search for the truth behind The Blair Thumb. "Frankenthumb" (2002, 32 min.) - Gasp as a deceased Thumb is brought back to life in this outrageous spoof of the gothic horror classic. "The Godthumb" (2002, 31 min.) - A gripping tale of true crime mixed with sensationalistic falsehoods and wrapped in vicious mobster stereotypes. Don't fuhgeddaboudit! "Thumb Wars" (1999, 29 min.) - Reluctant hero Loke Groundrunner and his tasty companion Princess Bunhead battle Black Helmet Man and the Evil Thumbpire! "Thumbtanic" (1999, 27 min.) - They thought nothing on earth could come between them. Then, they hit an iceberg...
Rating:
NR
Genre:
On DVD:
Runtime:
Critic Reviews for All Thumbs
There are no critic reviews yet for All Thumbs. Keep checking Rotten Tomatoes for updates!
Audience Reviews for All Thumbs
doesnt even look good...peopl the cover tells alot about the moive..this one looks either perverted or down right stupid
Theresa F
½
"Bat Thumb" is too weird and kinky, but it's still a cute recreation of the 1989 Tim Burton Batman film. "The Blair Thumb" is unnecessary and no longer culturally relevant. "Frankenthumb" is a superb work of thumb-puppet artwork. "The Godthumb" has great puppets and sets, but appeals only to "Godfather" fans, which I'm not. "Thumb Wars" is most fun of all, offering a hilarious thumb-puppet version of Star Wars episode IV; with Yoda from V thrown in. A classic. "Thumbtanic" is a well created and charmingly done puppet version of "Titanic". Overall, it's weird seeing actors' eyes and mouths super-imposed on thumb puppets - but it's something I soon got used to.
Lafe Fredbjornson
Super Reviewer
Instead of reviewing each of the six Thumb movies, I'll just make a broad review here. All Thumbs consists of: Thumb Wars, Bat Thumb, Thumbtanic, The Blair Thumb, The Godthumb, and Frankenthumb. Yes, all of these 30 minute movies star thumbs with peoples' faces on them. And yes it's absurd. But with their quick snappy pace and mere hilarity, All Thumbs is a nice little time for movie and thumb fans.
Eric Johnson
All Thumbs Quotes
There are no approved quotes yet for this movie.