All About Lily Chou-Chou
(2002)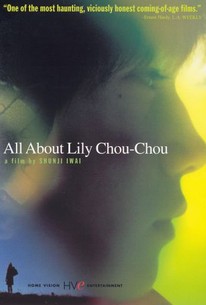 Movie Info
Life isn't easy for a group of high school kids growing up absurd in Japan's pervasive pop/cyber culture. As they negotiate teen badlands- school bullies, parents from another planet, lurid snapshots of sex and death- these everyday rebels without a cause seek sanctuary, even salvation, through pop star savior Lily Chou-Chou, embracing her sad, dreamy songs and sharing their fears and secrets in Lilyholic chat rooms. Immersed in the speed of everyday troubles, their lives inevitably climax in a fatal collision between real and virtual identities, a final logging-off from innocence.
Critic Reviews for All About Lily Chou-Chou
Audience Reviews for All About Lily Chou-Chou
If watching other people's home movies, and chatlogs, about new age mumbo jumbo appeals to you, knock yourself out--but I was too bored to give this movie the kind of attention it demanded to follow its disjointed out-of-order scenes. 146 minutes was way too much for me on this one.
Cynthia S.
Super Reviewer
Shunji Iwai's All About Lily Chou-Chou is one of those films that stands out on its own.
The story is quite unique and so is the writing, but this film is not for everybody. It shows how music can be a place for people to seek sanctuary from their everyday lives. The story can be tough to get into and the run time is just under 2 and a half hours. The first hour and the last 30 minutes are the better parts, while the middle tends to drag.
With that said, Shunji Iwai's directing makes this worth watching. For the most part, the camerawork is great. The cyber texting element that Iwai employs consistently throughout the picture is also a creative element worthy of note.
Hayato Ichihara's character is a bit bland, but he works well with what he has. The rest of the supporting cast is also good. Shugo Oshinari, Aoi Yu, and Ayumi Ito stand out the most. Takao Osawa also shows up with a funny character.
All About Lily Chou-Chou may only be the best film to some, but it is one of those movies that sticks with nearly every other viewer for a good amount of time. If only once, this is one to consider watching.
½
all about teen angst and the need to make connections and sense of the world. good cinematography, strange narrative structure. it will frustrate alot of people but i liked it. debussy reinforced the impressionist tone. could've used some cutting tho
Stella Dallas
Super Reviewer
All About Lily Chou-Chou Quotes
There are no approved quotes yet for this movie.