All About Our House
(2001)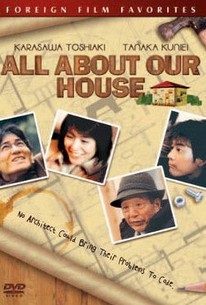 AUDIENCE SCORE
Critic Consensus: No consensus yet.
Movie Info
A young couple determined to build their dream home finds that accomplishing their lifelong goal is even more difficult than they ever could have imagined when their visionary plans are constantly questioned by their ultra-conservative elder in director Koki Mitani's quirky family comedy. Some say that a home reflects the person who built it, and Naosuke and Tomiko are an imaginative young couple who have always longed for something a little bit different in life. Upon procuring the talents of unlicensed architect Mr. Yanagisawa, an eccentric builder with a serious affinity for American classic design, Naosuke and Tomiko finally believe they have found the key to constructing the home they've always wanted. The only problem now is that in order to obtain the proper permits and acquire the materials that will set their dream into motion, they must first present the plan to Tomiko's notoriously conservative father, a stubborn traditionalist who is more than willing to contest every detail of the unusual home right down to the last nail.
Critic Reviews for All About Our House
All Critics (1) | Fresh (1) | Rotten (0)
a broad comedy in which a young urban professional couple try to build their dream home on a suburban lot, only for their hip interior designer to clash with the wife's father... in divergent visions of how Japanese identity should be constructed.
Audience Reviews for All About Our House
All About Our House is a Japanese comedic drama from Koki Mitani. While employing a pretty original plot, the comedic aspect of this film isn't a barrel of laughs.
The story involves the building of a house where the designer goes for a modern day artistic design, while the contractor goes for the old school Japanese design. It comes down to a generational gap. This is a great start for a comedy. At just under 2 hours, which is a tad long for what happens in this movie, the pacing is moderate and the story drags just a bit. The tension between the 2 designers of the house is quite entertaining, however the antics of the conservative contractor, while funny to some, come across as irritating. He becomes a character to hate, while you feel sorry for the young modern designer. This is where the drama takes over the comedy. Fortunately, as the film progresses both of these characters become likable.
The camerawork is pretty well done, although it seems the director is holding back at times. The dialogue is also pretty hilarious. "A house full of toilets? Yuck!"
Props goes out to the casting, because all characters are nicely chosen. Toshiaki Karasawa and Kunie Tanaka carry this film as the designer and builder respectively, while Akiko Yagi and Naoki Tanaka portray the couple of the house. Naoki Tanaka's character has a little bit of a geeky personality that provides some laughs.
All About Our House does have its funny moments, however this isn't for people that want a kick back over the top comedy.
All About Our House Quotes
There are no approved quotes yet for this movie.
Discussion Forum
Discuss All About Our House on our Movie forum!