All American Orgy (Cummings Farm)
(2010)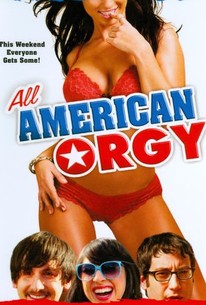 AUDIENCE SCORE
Critic Consensus: No consensus yet.
All American Orgy (Cummings Farm) Photos
Movie Info
Three couples having relationship problems think a round of group sex might be just the solution in this independent comedy. Rachel (Aimee-Lynn Chadwick) and Gordon (Jordan Kessler) have been dating for a while, but things are becoming tense between them, largely due to Gordon's drinking problem. Yasmine (Yasmine Kittles) and Alan (Adam Busch) live together but have bickering a great deal over petty matters, and Adam has become strongly attracted to Yasmine's friend Rachel. And sweet but naive Tina (Laura Silverman) is married to Todd (Ted Beck), who works in the music business and has a sleazy streak a yard wide. Todd wants to spice things up with Tina by taking part in an orgy, and she cheerfully agrees, asking her friends Rachel and Yasmine to brings their significant others along for an adult weekend at Cummings Farm, a strawberry farm and low-rent resort owned by her family. While the three women are close friends, the three men don't like each other very much, and this is only the first of many ways in which the swinging weekend takes a turn towards the uncomfortable. Cummings Farm was the first feature film from director Andrew Drazek; Ted Beck, who plays Todd, also wrote the screenplay.
Critic Reviews for All American Orgy (Cummings Farm)
There are no critic reviews yet for All American Orgy (Cummings Farm). Keep checking Rotten Tomatoes for updates!
Audience Reviews for All American Orgy (Cummings Farm)
½
Clearly this writer is trying to overcome some hangups through overcompensation by penning an extremely profane script. Not even sailors on the USS Sodomizer speak with such frank vulgarity, much less ordinary American couples. Despite these forced dialogue elements, this is often a rather funny swingers-weekend-gone-wrong. The actors all do a good job and create pretty well-defined characters who aren't merely stereotypes. With a cleaned-up script by a writer who didn't think he had something to prove, I could easily give this a recommendation. There are quite a few laughs and witty interjections in & around the pervasive graphic sex talk, but enough is enough.
Doctor Strangeblog
Super Reviewer
½
All-American Orgy (also known as Cumming's Farm) is an odd pastiche of a comedy and a relationship drama. Three couples with various issues agree (for various reasons) to come to a remote farm to have an orgy. Things start out weird and go downhill fast, as various problems come to light. I guess the closest movie I could compare this to is Y.P.F. It won't appeal to everyone, but if you liked that movie, then you might like this one. It's funny in places and some of the group dynamics are interesting, but fully three-quarters of the characters are annoying and unlikeable. The story doesn't really go anywhere, and the ending was pretty abrupt. I guess it's sort of appropriate that the messy situation of the plot would be reflected in the movie as a whole, but All-American is really just too undercooked and direction-less for me to recommend. Some of the pieces were here for a good movie, but there's no coherent whole.
All American Orgy (Cummings Farm) Quotes
Discussion Forum
Discuss All American Orgy (Cummings Farm) on our Movie forum!