All Cheerleaders Die
(2014)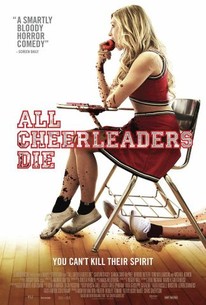 TOMATOMETER
AUDIENCE SCORE
Critic Consensus: All Cheerleaders Die sets out to subvert horror tropes, but ends up falling victim to many of the same trashy cliches it's trying to mock.
All Cheerleaders Die Videos
All Cheerleaders Die Photos
Movie Info
Teenage outsider Maddy is keeping some dark secrets and holding a serious grudge against the captain of the Blackfoot High football team. When Maddy joins the school's elite and powerful cheerleading squad, she convinces her new friends to help inflict her revenge. After a late-night party goes awry, their plans take an unexpected turn for the worst and all of the girls die. A sinister, supernatural power intervenes and the girls mysteriously appear at school the next day with a killer new look... and some unusual new appetites.(C) Image
News & Interviews for All Cheerleaders Die
Critic Reviews for All Cheerleaders Die
Audience Reviews for All Cheerleaders Die
Rocks the "And suddenly, MAGIC!" trope I detest so. Watchable by all accounts, but absolutely zero staying power.
½
Interesting more than good. Have liked Lucky McGee since May, so had to get this. Don't quite know what I sat and watched, but somehow not too surprised by that! Looks great for a low budget movie. Liked the cheerleaders and the goth character. Sort of works even though it's a wtf type of movie. Will probably watch this one again and see if it becomes any clearer.
Nicki Marie
Super Reviewer
½
While this is a collaboration between Lucky McKee and Chris Sivertson, remaking their own film that the first shot right after graduating college, I've been a big fan of Lucky McKee for a long time. I thought both May and The Woman were incredibly smart horror films. Lucky has always had a good handle on how to create compelling female characters while subverting the typical usage of females in horror films. Whether that be the damsel in distress, or the sexual manipulator playing everyone to get what she wants, Lucky finds a way to avoid the typical characterization associated with females in horror movies. And this one is no different. While this movie certainly has a very unique and novel concept, I don't think that it fully reaches its own potential. Part of the problem comes in the fact the film feels the need to flaunt how clever it is. It's like a macho guy who makes fun of gays because he's insecure about his own sexuality. Same principle applies to this movie, with the exception it's insecure about its cleverness. Don't get me wrong, though, there are some really witty moments here, cool subversion of female character tropes, so it's not that this movie doesn't know what it's doing. It's just that it doesn't really feel that this approach doesn't feel really that organic, or natural. Whether that is because this was a collaboration between two filmmakers and not just a strictly Lucky McKee project remains to be seen. Just because they're both billed as the directors of the film does not mean that they both had equal input. We don't know who came up with what, so it's something we shall never know. Another issue is that the film has very obvious tonal issues. I realize that writing scripts is, sometimes, a multiple person project, but I don't know why, I get the feeling that having two people involved in the writing AND directing of the film led to these tonal issues. This is just conjecture on my part, so don't take this as fact. Sometimes it was serious, sometimes it was satirical, sometimes it was violent, but it was never all of these things at once in a consistent manner. There are some very funny moments though and the climax itself is really cool. The acting is also pretty damn good all things considered. Don't know why I say that, since Lucky McKee has had a pretty good track record with casting in his films. I realize that I came across as sort of negative on the film because of its many issues, but I genuinely did enjoy the film despite those issues. It's a fun little movie despite it not being good, in my opinion. The ending itself was great because I would very much welcome a sequel, I think it'd give Lucky and Chris a chance to improve upon this film and make a vastly superior one the next time around. I'd watch a sequel in a heartbeat. With that said, decent horror movie with lots of flaws, doesn't make the most of its premise, but it's still a decent horror movie and definitely worth a watch on Netflix, just because it's something different than the norm.
Jesse Ortega
Super Reviewer
All Cheerleaders Die Quotes
There are no approved quotes yet for this movie.
Discussion Forum
Discuss All Cheerleaders Die on our Movie forum!