All God's Creatures
(2012)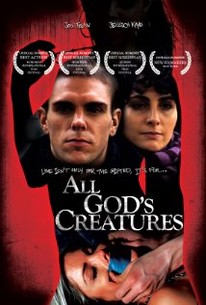 AUDIENCE SCORE
Critic Consensus: No consensus yet.
Movie Info
New York City barrista Jon Smith (Josh Folan) moonlights as a serial killer on a mission to rid the streets of impure women, but is forced to confront his own murderous impulses after meeting Delia (Jessica Kaye) - a repentant prostitute determined to seek out a better life. ~ Jason Buchanan, Rovi
Rating:
NR
Genre:
Directed By:
Written By:
On DVD:
Runtime:
Studio:
Nitty Gritty Studios
Critic Reviews for All God's Creatures
There are no critic reviews yet for All God's Creatures. Keep checking Rotten Tomatoes for updates!
Audience Reviews for All God's Creatures
31 of 31 #9 "ALL GOD'S CREATURES" released in 2012 - Even serial killers need love. So we have a Barista serial killer on this one....hold for laughter....dude name Jon Smith....who pours coffee like a champ and kills prostitutes like he was making a mocha cookie crumble with extra crumble. But wait....he meets a girl called Delia who completely captures his attention....but wait....SHE IS A FORMER PROSTITUTE....ooohhhh...what will prevail....love or his need to rid the world of these impure women....why cant serial killers just find love without having to experience a moral dilemma. This movie was painfully shot using a single camera, I can see the director tried his best to set up some shots but there are a few things that bring the movie down. 1 - The acting is atrocious, it gives The Room a run for its money...seriously. 2 - The actors are aware that there is a camera filming them, during the distance shots they move and smile as if someone had a camera on them lol. 3 - I am all for ambiance in a movie but sometimes its too much, case and point....Jon and Delia are talking at a bar and there is a band playing in the backgroung and they band is SOOO LOUD you simply cannot hear the dialogue at all, this also happens several times in other key scenes where we see Delia's sister and her abusive boyfriend......husband ??? who knows...but abusive....the tv is so loud on these scenes its like hysterical to see. 4 - I understand low budget and there is charm to low budget effects but that's not the case here, I swear one bloody scene looks like strawberry preservers slapped on the victim's face lol. So Jon and Delia sitting in a tree......with the most inconsistent acting I ever seen in my life, at one point Jon has a creepy face and he tries to look like a cold calculating killer ( snicker ) and in others he simply derails with overacting by yelling absolute nonsense when he wins a stuffed toy at one of those machines with the claw. This movie also has the most musical transitions with the worst music I have ever heard, I groaned every single time one of these would play lol. So its hard to say is this a horror movie....sure....it has a serial killer who is a Barista in search of love and justice against hookers ( it never gets explained why really ) and he never once kills anyone using coffee or coffee making supplies, a wasted opportunity to see someone getting killed with a cup of scorching hot chia latte. Worth it to watch if you are in a mood to make fun of the world.
Ozzdeath Souldeath
½
Distasteful, rather shaky execution, but not completely uninteresting. While the characters are unlikable and the overall plot is rather pale, it manages to relate to people while throwing around the occasional laugh. It could of been a little more tame.
Wes Shad
Discussion Forum
Discuss All God's Creatures on our Movie forum!