All In
(2007)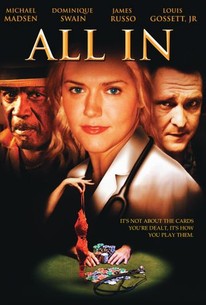 AUDIENCE SCORE
Critic Consensus: No consensus yet.
Movie Info
A medical student with mounting debts draws on her formidable poker skills in order to stay afloat in this gambling drama starring Dominique Swain and Michael Madsen. As a young girl, Alicia "Ace" Anderson (Swain) frequently accompanied her card shark father (Madsen) to clandestine gambling rooms for tense rounds of Texas Hold 'Em. As a result of her childhood spent watching her father fleece his opponents, Alicia became a fairly exceptional card player herself. These days Alicia has left behind the world of gambling in order to focus on medical school, but education doesn't come cheap and the tuition fees are fast piling up. Of course the one way that Alicia knows how to make a quick buck is to fall back on her old skills, and now with a bottomed out bank account and few options on the table the savvy student gambler enlists the aid of some fellow students in hitting it big at the local casino. Though her cohorts may be well schooled in the art of the bluff, this team will need much more than a good poker face if they truly intend to win out over some of the world's best card players.
Rating:
PG-13
Genre:
,
Directed By:
Written By:
In Theaters:
On DVD:
Runtime:
Studio:
MTI Home Video
Critic Reviews for All In
There are no critic reviews yet for All In. Keep checking Rotten Tomatoes for updates!
Audience Reviews for All In
I don't know how they make movies this bad and get away with it, but this is unbelievably awful. If you like poker, stay away. It's actually bad enough to be funny, so it might be worth a watch among a group of really drunk friends. Maybe you could take a shot every time someone says something stupid. You would be passed out inside of 5 minutes.
Max A.
½
Anyone who knows me at all, knows that I am a poker junkie. More to the point, I am a Hold Em' junkie. So, when I came across this movie, I had to watch it for that reason alone. All In is the story of Alicia "Ace" Anderson, a first year medical student and a gifted poker player. I had A LOT of problems with this movie. First, the acting was terrible. I love Reservoir Dogs, and no one is cooler than Mr. Blonde. I have great respect for Michael Madsen as an actor, but even he wasn't able to pull this movie out of the acting toilet. My second issue was the script was horrible, and there were plot holes galore, something that I just can't stand. One being, since when do they let first year med students have patients on the second day of class? The whole sub plot of her being a med student and the corrupt doctors, should have been axed because it just added to the whole rotten smell of this film. Third, if you are going to base a movie on a real life poker tournament, check your facts and know the rules. The big time poker playing doctor, had never actually played a real live poker tournament in his life. In a real poker tourney, you can not splash your chips into a pot, and it's just rude besides. I did appreciate the fact that they had John Juanda and Eric Seidel in there, playing themselves, as real life pro players. That earned the movie a star, and Michael Madsen earned it the other half a star for being cool. If you want to be entertained by poker playing, just catch the WSOP of the World Poker Tour on ESPN or the Travel Channel. I would rather listen to poker cry baby Phil Hellmuth whine for an hour and half, then to ever have to see this movie again.
Jami Lyn
In the slew of recent bad poker movies, this is the absolute bottom of the barrel. Abysmal acting, cliche script-writing, terrible directing, lame poker scenes, and a horrible soundtrack. Everything about this movie is horrific except for the fact that Seidel and Juanda make appearances in it.
Josh Anderson
All In Quotes
There are no approved quotes yet for this movie.