All My Friends Are Funeral Singers
(2010)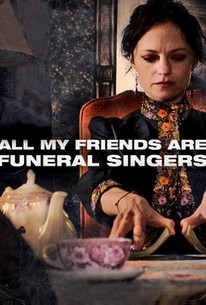 AUDIENCE SCORE
Critic Consensus: No consensus yet.
All My Friends Are Funeral Singers Videos
All My Friends Are Funeral Singers Photos
Movie Info
A woman has an unusual relationship with the other tenants of her home in this independent drama. Zel (Angela Bettis) is a fortune teller and psychic reader who helps people speak with their deceased friends and relatives, advises gamblers on where to best place their bets and helps clients understand their psychological and emotional maladies. But Zel has plenty of help in her work -- her house is also home to a family of ghosts who have lived there for centuries and speak to her about what's happening in the spirit realm. All is well in the lives of Zel and her spectral companions until a strange light appears in the woods, which proves to be a bizarre trap that catches the ghosts and won't let them go. Zel isn't sure what to do, but can't see how she can let down her most trusted friends in their hour of need. All My Friends Are Funeral Singers was written and directed by Tim Rutilli of the experimental post-rock group Califone, and the rest of the members of the band appear in the film and helped Rutilli compose and perform the soundtrack. The film was an official selection at the 2010 Sundance Film Festival. ~ Mark Deming, Rovi
Rating:
NR
Genre:
, , ,
Directed By:
Written By:
In Theaters:
On DVD:
Runtime:
Studio:
Indiepix
Critic Reviews for All My Friends Are Funeral Singers
There are no critic reviews yet for All My Friends Are Funeral Singers. Keep checking Rotten Tomatoes for updates!
Audience Reviews for All My Friends Are Funeral Singers
As a standalone film, "All My Friends Are Funeral Singers" is slow and slightly dull. Yet, if one keeps in mind this was directed by essentially the band Califone for the release of one of their albums of the same name, one can enjoy the film a little more with their tongue in cheek. Filled with good music and sub-par technical filmmaking, "All My Friends Are Funeral Singers" is more of a moving art piece than a complete film.
Sean Michael Smith
Cast: Angela Bettis, Emily Candini, Reid Coker, Kevin Ford, Karol Kent, George McAuliffe, Michael McGinley, Sierra Magdalena Mitchell, Alan Scalpone, Molly Wade, Wesley Walker Director: Tim Rutili Summary: In an old country house, fortune teller Zel (Angela Bettis) tries to pacify a group of rebellious ghosts, including several blind musicians, a priest, bride and speechless child, who she's lived with for numerous years and all of a sudden yearn to leave. Written and directed by Tim Rutili, this bizarrely captivating film features a wealth of original music from his critically acclaimed post-rock band Califone. My Thoughts: "I honestly just didn't like this movie. I couldn't get into it or care to finish it, although I did. The film does nothing and goes nowhere. It's more of an artsy piece of film, usually I like them, but not this one. I just couldn't wait for it to be over with. I kept waiting for something important or substantial to take place but it never did. I just felt lost and confused. I didn't like the music either. Just very boring."
♥˩ƳИИ ƜѲѲƉƧ♥
Super Reviewer
All My Friends Are Funeral Singers 1 Disc Widescreen (2010) Running time 83 minutes "All My Friends Are Funeral Singers" was written and directed by Tim Rutili and stars Angela Bettis as Zel, a psychic running a business out of her home at the edge of the woods that lives with a large number of ghosts dressed in white that interact around her playing instruments and giving her answers to give to her clients. All is well working in harmony until the ghosts want to move on to the bright light and find they cannot. After a mysterious light appears at the windows during the night, the ghosts want to go to it and find themselves trapped. At first they blame Zel like she is keeping them there and she has to dig into her past to try and come up with a solution for them. Their presence effects every part of her life, her career, her home life, and her relationship with her boyfriend whom she practically ignores when he visits since she is enraptured by the presence of all her friends in white around her like she's the most popular girl in school. Zel must be a very lonely person to rely so heavily on the ghosts' company when they are so noisy and argumentative all the time. The ghosts all discuss theories about what happened to them and try to rationalize points of their lives and talk to the camera like it is a documentary/reality-type format like "The Office" for some reason. Zel herself is never interviewed so it is hard to figure out her objectives when she just gazes at them and accepts them as a normal part of her family. The ghosts argue about their sex lives, their deaths, and whatever else they can think of in these asides. It is a very strange situation because Zel and the ghosts have very few interactive conversations and the ghosts mostly talk amongst themselves and play with the answering machine. One man comes to see Zel at her home for her psychic powers in predicting winning race horses which one of her ghosts always gives her the answers to. There is also a woman who is supposed to be a friend of Zel's, but always asks Zel to summon the spirit of her late husband. Zel acts as a medium for the husband to communicate through in his own voice with her mouth moving and this amazing phenomena is taking place and all the couple can do is bicker. He keeps yelling at his wife for waking him up and summoning him again! Apparently this process is very taxing on Zel so it is hard to gauge why she bothers going through this for this woman who is clearing using her. It is a confusing movie and also a very noisy movie! All the trains running through this movie remind me of a house I grew up in near a train track. All the ghosts act like they are in a tribal band when they want attention and are constantly hitting drums and shaking tambourines and maracas. It is about as headache inducing for the audience as it is for the protagonist! They are a lot less like "funeral singers" and a lot more like a never ending drum circle. After some research, it turns out that the ghosts in this film are the band Califone and they released an album in 2009 called "All My Friends are Funeral Singers" and this film was being written at the same time based on their track list. Is this movie a vehicle for the album or the album a vehicle for the movie? Either way there is a story they wanted to tell visually and musically, but so much focus was put on the music portion that very little was put into the writing of dialogue or fleshing out of the plot. If you like Califone's music, then this film will be wonderful for you. Otherwise it is a lot more hassle than it is worth to sit through and can induce a headache unfortunately. For an interesting concept, it was not carried out well. Bonus Features: There are ghost interviews laced throughout the film to get their perspective on their death and why they feel they are still around and haven't advanced into the after-after life. There is a feature that allows you to see longer segments of those interviews. There is a music video for the song, "Funeral Singers" that plays near the end of the movie. There is also a live Califone performance on the film's set of "Polish Girls". "Paper Shoes" and "Joe's Ear" are two more songs that are played in the bonus features section, these are NOT featurettes, just music, no explanation. There is also a longer sequence of a scene of a ghost listening to an answering machine. These featurettes do not remark on the movie, the making of the movie, or interview any cast or crew. They are just extended scenes and deleted musical numbers.
Gina Wagner
All My Friends Are Funeral Singers Quotes
There are no approved quotes yet for this movie.