All Things Fair (Lust och fägring stor) (Love Lessons)
(1995)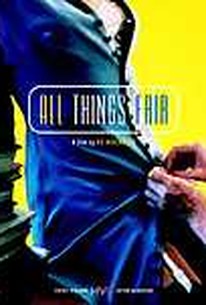 AUDIENCE SCORE
Critic Consensus: No consensus yet.
All Things Fair (Lust och fägring stor) (Love Lessons) Photos
Movie Info
A young man growing up at a difficult time enters into a relationship that only makes his life more complicated in this acclaimed coming-of-age drama. Stig (Johan Widerberg) is a 15-year-old boy growing up in Malmo, Sweden, in 1942. While WWII rages in Europe, Sweden remains politically neutral, though it's all but impossible for the people of Malmo not to have an opinion about the conflict, and Stig's own brother intends to volunteer to serve on a submarine. Stig has fallen in love with his schoolteacher Viola (Marika Lagercrantz), who is 22 years his senior. To his great surprise, Viola confesses that she's also attracted to Stig; she's stuck in a failing marriage to Kjell (Tomas von Bromssen), a depressive alcoholic salesman, and there's something in Stig's naive desire that touches her. The two become involved in a passionate love affair, which Viola makes little effort to disguise from Kjell; in fact, Kjell becomes friendly with Stig and tries to teach him about his great passion in life, classical music. Eventually, Stig becomes attracted to Lisbet (Karin Huldt), a girl from school his own age, and when they become involved, Stig breaks off his affair with Viola. Viola is not eager to give up Stig, and in time, she retaliates with violence. Lust Och Fagring Stor was the final film from noted Swedish director Bo Widerberg; he died two years after its release -- at the age of 56. Jonah Widerberg, who played Stig, is Bo's son, and was 21 at the time the film was released. ~ Mark Deming, Rovi
Audience Reviews for All Things Fair (Lust och fägring stor) (Love Lessons)
This is a wonderful film with intriguing script, good acting, and playful yet serious story with consequences for all. Johan Widerberg as the young man Stig is outstanding. You can watch his maturity, adult wisdom, and general sensitivity blossom as the movie progresses. This movie is rather long, and at times rather slow, but I was really taken in by the whole drama. Nice piece of work...
Cynthia S.
Super Reviewer
[font=Century Gothic]"All Things Fair" takes place in 1943 in Malmo, Sweden where Stig(Johan Widerberg) is a high school student from Stockholm who works at the concessions of a movie theatre. His older brother, Sigge(Bjorn Kjellman), is in the navy and an aspiring boxer. Amongst his classmates, Stig is not alone in being infinitely curious about sex while having very little knowledge about the subject.(The boys and girls are educated separately.) He does form a bond with his new teacher, Viola(Marika Lagercrantz), who is also from Stockholm but they go beyond propriety during a makeout session in the map room.[/font] [font=Century Gothic][/font] [font=Century Gothic]"All Things Fair" takes on a controversial subject in a provocative manner. The film gets off to a promising start; features some good relationships and character development but drags on too long towards at least a few promised endings before coming to a halt. It best serves as an argument against single sex education.[/font]
[img]http://www.dvdaf-pics.com/thumbs/19/42319.gif[/img] DVD: Netflix Free Rental Trial Research: dvdobsessed and filmcritic.com's reviews to ground my thoughts 1st viewing (alone) Ratings: Plotline 3/4 Replay 2/4 Cinematography 3/4 Score 3.5/4 Acting 3/4 This one has burrowed its way into my psyche and I am still trying to fully digest it's meanings. I expected a bit of Bergman-espque homage perhaps, and while the style shares a few similarities (tragedy, pacing, character introspection to the point of alternate reality) this was a very different type of film. The director, apparently filming his son from what I can understand, is able to allow the passion and ultimate downfall of the lovers room to breathe and the result is impressive. The film touches on explicitness (underage nudity) but the real passion is achieved through concept and context, which I was very taken with. I disagree with the filmcritic in that I find the characters to be very believable (perhaps he is overly naive) and the juxtaposition of the boy's loss of innocence with the country's loss as portrayed through the death of the brother was extremely well handled. The film did begin to waver a bit at the end and I found the finale a bit disappointing. However, the scene with the single young girl singing the hymn at the funeral and the encore later by the devastated father are etched in my memory. Quite a surprising and moving film.
Jonathan Owen
All Things Fair (Lust och fägring stor) (Love Lessons) Quotes
There are no approved quotes yet for this movie.
Discussion Forum
Discuss All Things Fair (Lust och fägring stor) (Love Lessons) on our Movie forum!