All Things To All Men
(2013)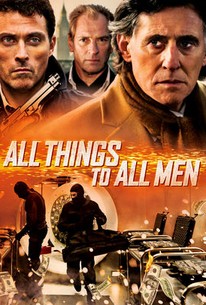 All Things To All Men Videos
All Things To All Men Photos
Movie Info
George Isaac's crime thriller All Things to All Men stars Rufus Sewell as a police detective so obsessed with toppling a crime kingpin (played by Gabriel Byrne) that he is willing to leave ethics and the law aside in order to succeed.
Rating:
NR
Genre:
,
Directed By:
Written By:
On DVD:
Runtime:
Studio:
Critic Reviews for All Things To All Men
Audience Reviews for All Things To All Men
One line summary: Endless betrayals mark this dark anti-procedural crime film. ---------------------- Set in modern day London, UK. The issues are criminal activities versus police responses. Riley moves stolen diamonds. Joseph Corso is a crime boss, the 'Merchant' of London; Cutter is his henchman. Mark Corso (Joseph's son) seems to be running drugs, and doing them as well. Parker, Dixon, and Sands are on the New Scotland Yard/Metropolitan Police side of the issues. By squeezing Mark on cocaine possession, Parker and friends leverage his father Joseph into trapping Riley, who has been skirting Joseph's rules of order. The plans move forward, glacially. Joseph wants his son safe, well-treated, and preferably free; Parker wants Riley in jail and off the streets. At least that is the first story. Joseph sets up Riley to do 'one more job' that is a complicated heist that has to be done lightning fast. Parker gets Mark back to Joseph. Joseph tells Mark that he is retiring as the Merchant, but that succession is unlikely since Mark is a known addict. So, the stage is fully set. Given the complicated arrangements, something is bound to break down. Will the cops keep faith with Joseph on the deal? Will Joseph help Riley just enough to get him caught? Will Mark pull a wild card out? Will Riley diagnose the whole setup and get free of it? Where does the difference start between normal police procedure and straight up corruption? -----Scores----- Cinematography: 8/10 A bit too dark for me, but presumably done for effect. Focus and framing and the like were just fine. Sound: 8/10 The tension building from the background music was good, and the actors seemed to be miked OK. Acting: 6/10 Normally I like Byrne, Sewell, and Sands. They were fairly good here as well, although perhaps the material was not enough of a challenge for them. I like Toby Stephens as a comedian in television (Vexed) and film (Severance), but not so much as a dramatic actor. I kept expecting a flippant remark or seven together with a sneering smile. Terence Maynard was rather good, and I liked Leo Gregory's performance. Screenplay: 5/10 How does Riley get shot in the abdomen then can keep going with high-stress muscular maneuvers for a good continuous 20 minutes afterwards? This seems unlikely. The heist succeeding seemed unlikely. The wrong amount of valuables being in the vault open for inspection seemed ridiculous. Normal police discovery seemed to be almost absent. The ending (and much of the plot) reminded me of LA Confidential. This worked in the year in which LA Confidential was set, but not so much in 2013. Perhaps worst of all, the 84 minute play time felt like 130.
Ed Collins
Somebody wanted to make a mafia ish crooked cop movie without a thought out script so they just called in actor favors in hopes to underwrite the fact that people might notice.
Jason Kraynek
½
77% "Finally broke your cherry."-Detective (Rufus Sewell) Has everything a good caper is supposed to have, except women.
FilmGrinder Stone
All Things To All Men Quotes
There are no approved quotes yet for this movie.
Discussion Forum
Discuss All Things To All Men on our Movie forum!