All Thumbs
(1999)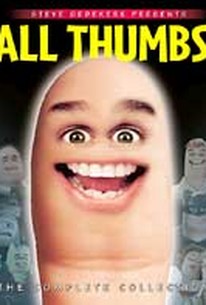 AUDIENCE SCORE
Critic Consensus: No consensus yet.
Movie Info
Thumb madness with Steve Oedekerk, featuring:THUMB WARS: The comedic genius behind such smash blockbusters as THE NUTTY PROFESSOR and PATCH ADAMS, Steve Oedekerk lends his unique comic vision to this bizarre spoof of the STAR WARS trilogy. Using his patented "Thumbation"--the practice of using dressed up and coifed thumbs as puppets--Oederkerk has masterminded a spoof of the space drama with characters such as Princess Bunhead, Black Helmet Man, and Evil Thumpire!THUMBTANIC: Comedy writer-director Steve Oederkerk (ACE VENTURA II, PATCH ADAMS) is back with another one of his patented Thumbmotion adventures. This time he takes on the epic blockbuster Titanic, using moving thumbs with wigs and costumes to portray the characters of young lovers Jake and Geranium.THE BLAIR THUMB: Wildly successful comedy writer Steve Oedekerk (the mind behind hits including THE NUTTY PROFESSOR and ACE VENTURA) takes on the BLAIR WITCH phenomenon in his second movie spoof involving thumb puppets. This live-action satire uses his patented "Thumbation" to tell the tale of 3 thumbs who journey into the forest in the hopes of making a documentary. After mysteriously vanishing, their video taped footage is found and played in an attempt to get to the bottom of the horror they encountered.BAT THUMB: From Steve Oedekerk, director of KUNG POW!: ENTER THE FIST and ACE VENTURA: WHEN NATURE CALLS (as well as the creator of THUMB WARS and THUMBTANIC) comes a new spoof adventure... with an all-thumb cast! Wuce Bane (or "Bat Thumb") and his sidekick Blue Jay must save Gaaathumb City from an evil know only as "No Face." Meanwhile, Bat Thumb cannot resist the distracting temptations of the well manicured Vicky Nail. Will the city be saved? Will Bat Thumb's identity be revealed? Find out in BAT THUMB!FRANKENTHUMB: That master of hand based satire and other bizarre animated comedies, Steve Oedekerk (JIMMY NEUTRON: BOY GENIUS, THUMBTANIC) is back with another spoof on a classic. FRANKENTHUMB uses thumbs with superimposed outfits and faces to tell the story of Frankenstein, complete with hunchbacks and mad scientists!THE GODTHUMB: From the mind of Steve Oedekerk, responsible for other thumb-tastic hits like THUMB WARS, BAT THUMB, THE BLAIR THUMB, and many others, comes THE GODTHUMB. Struggling to control his crime and extortion rackets, The Godthumb rules a notorious family (or should that be thumily?!) who terrorize New York's underworld (thumbderworld?). Every stereotype you could ever want is here, presented in glorious thumbvision.
Critic Reviews for All Thumbs
There are no critic reviews yet for All Thumbs. Keep checking Rotten Tomatoes for updates!
Audience Reviews for All Thumbs
There are no audience reviews yet. Hurry, submit your review so you can be first!
All Thumbs Quotes
There are no approved quotes yet for this movie.
Discussion Forum
Discuss All Thumbs on our Movie forum!