Allegro Non Troppo
(1976)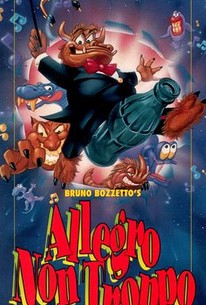 Allegro Non Troppo Photos
Movie Info
Something of a Fantasia for adults, Allegro Non Troppo intercuts slapstick live-action sequences -- which relay the story of a beleaguered animator's (Maurizio Nichetti) ongoing battle with an Oliver Hardy-like orchestra conductor -- and animated sequences, set to classical music, which visually interpret selected works of Debussy, Dvorak, Ravel, Sibelius, Vivaldi, and Stravinsky. The liveliest piece, set to Ravel's Bolero, delineates a series of "spontaneous generations" from an abandoned Coke bottle. The most haunting piece, set to Sibelius' Valse Triste, depicts a forlorn cat wandering the ruins of a condemned building and constantly hallucinating that he is back in the lap of luxury. Allegro Non Troppo is the brainchild of gifted Italian animator Bruno Bozzetto.
Critic Reviews for Allegro Non Troppo
Audience Reviews for Allegro Non Troppo
A series of cartoons animated to classical music pieces. It never reaches the grandiose heights of FANTASIA (the filmmakers are well aware of that fact), but the scribblings here are at the same time more adult (there's a good deal of cartoon nudity) and overall more whimsical than Disney's sometimes self-important commissions.
I love this movie, it's a beautiful animated music filled film much like Fantasia, but with some humorous interludes in between. It's so full of life and comedy, I love it.
It's a good parody of Fantasia and also a pretty good stand-alone movie in itself. Some passages were hilarious, some were sad, some were unBEARably sad, and the animation is always diverse and top-notch. I was very rarely bored while watching this. But I think the Italians are sometimes a bit too sadistic for my taste. The music was well-played and everything too.
Jennifer Xu
Super Reviewer
Allegro Non Troppo Quotes
There are no approved quotes yet for this movie.