Almost Holy (Crocodile Gennadiy)
(2016)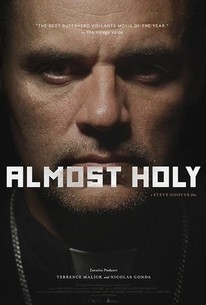 TOMATOMETER
AUDIENCE SCORE
Critic Consensus: Almost Holy offers a close-up look at a fascinating figure whose controversial work and extraordinary story pack the narrative punch of a well-written drama.
Almost Holy (Crocodile Gennadiy) Videos
Almost Holy (Crocodile Gennadiy) Photos
Movie Info
The fall of The Soviet Union left Ukraine in a wake of social and political upheaval. The crippled economy and corrupt infrastructure produced little hope. However, a pastor and civic leader from Mariupol, Ukraine named Gennadiy Mokhnenko made a name for himself by forcibly abducting homeless drug-addicted kids from streets of his city. He founded Pilgrim Republic, a children's rehabilitation center and home for former street kids. With Gennadiy's help over the years, things seem to have changed. Mariupol is no longer crawling with homeless kids. Many credit this largely to his efforts at Pilgrim. Now, as the large majority of Ukraine leans towards a European Union inclusion, hopes of continued revitalization seem possible. In the meantime, Gennadiy's center has evolved into a more nebulous institution.
News & Interviews for Almost Holy (Crocodile Gennadiy)
Critic Reviews for Almost Holy (Crocodile Gennadiy)
Audience Reviews for Almost Holy (Crocodile Gennadiy)
A compelling character study into a gritty modern day Saint in the Ukraine. A film that really studies the true nature of moral vigilante justice and the costs of its deliverance. This is not simply a singular quest to avenge a wrong in a fireworks display of violence and satiation, but a life's mission to confront the moral and social failing of a deeply damaged society and the toll that mission takes on the man. The film is well shot and beautifully captures the gray depressing sights of Mariupol. Ominous smoke stacks burn perpetually in the background alongside shattered and neglected school yards, a glimpse into the priorities of the social order. Everyone is generally content to empower this pastor to continue his work and only mildly criticize his vigilante nature, but little is done to combat the systemic cause of all the suffering. The tone of the film is relentless in its despair and offering only brief glimmers of hope. The somber message is, however, delivered with subtlety, so the film is not overly weighed down to the point of being despondent. I think the best way to describe the film is that there is taint to all of the work the pastor must complete that is echoed in the filming and subtle recurring themes showcased. This really highlights the unspoken burden and toll of being a person who goes beyond the law to right wrongs. There is no particular clean glory in being a true moral vigilante. Stylized vengeance is a cheap moment, a life filling the void of ordered society is a different sort of justice. It is darker and much more unsettling. There is a tendency to aggrandize and sanctify the business of helping the truly downtrodden, it is referred to as a holy or wholly pure activity. The title of the film is well chosen in that it captures the real nature of moral vigilantism as exemplified by the character being studied. There is an interesting recurring theme with water and ritual cleansing that really develops the film's message and the pastor's life. Despite all the water and ritual, the unsettling taint of forces that necessitate his work are never fully washed away. There is no way to "fully clean one's soul", Genniady notes in the film.
Shane Sackman
Super Reviewer
Almost Holy (Crocodile Gennadiy) Quotes
There are no approved quotes yet for this movie.