Alois Nebel
(2013)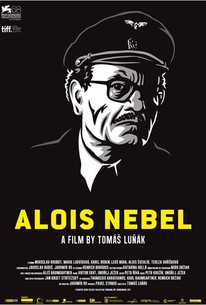 AUDIENCE SCORE
Critic Consensus: No consensus yet.
Movie Info
Tomas Lunak's rotoscoped drama Alois Nebel tells the tale of a Czechoslovakian train dispatcher who is haunted by events he was a part of during the Second World War involving a shooting and an orphaned child. In 1989, just as the Berlin wall falls, Alois ends up in an asylum, but when he gets out there he has no job and can't quite adjust to the new social and political realities. Thankfully, he meets a woman who might just provide the love he so badly needs. Alois Nebel screened at the 2011 Toronto International Film Festival. ~ Perry Seibert, Rovi
Critic Reviews for Alois Nebel
All Critics (1) | Fresh (0) | Rotten (1)
This very sombre film from debut filmmaker Tomás Lunák recalls the dazzling visual style of Christian Volckman's 2006 French action noir, Renaissance, but [with] a plot that appears to move as slowly as molasses...
Audience Reviews for Alois Nebel
A morose Czech train dispatcher is haunted by memories of a German woman who was deported after World War II when he was a boy. In shadowy, noirish black and white animation, this is an interesting-looking picture, but unfortunately it's hampered by a gloomy minimalist plot where almost nothing seems to happen, but the story still manages to confuse.
This Czech film has an intriguing premise along with outstanding visuals and animation. It Follows a train dispacher and his affairs with the world and people he meets and deals with during and after WWII; as you can see it follows a noir tradition we could crave. It could of had the potential to be great, but it falls short with its storytelling with very dreary pacing, and incoherrent plotting. Perhaps I wasn't too open while watching this, actually feeling I've lost sense of the plot. I may of misjudged it, but didn't enjoy it as much as I wanted to.
Luke Eberhardt
Super Reviewer
Alois Nebel Quotes
There are no approved quotes yet for this movie.