Alone in the Dark II
(2008)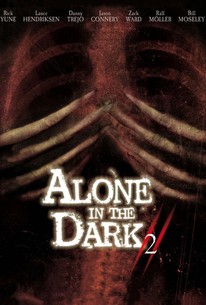 AUDIENCE SCORE
Critic Consensus: No consensus yet.
Movie Info
When an unidentified creature wrecks havoc in Central Park, it's up to Edward Carnby to destroy the monstrous abomination. Rick Yune, Rachel Specter and Lance Henriksen star in this sequel to Uwe Boll's 2005 video game adaptation.
News & Interviews for Alone in the Dark II
Critic Reviews for Alone in the Dark II
Audience Reviews for Alone in the Dark II
Just when you thought Uwe Boll made one of the worst horror flicks with Alone in the Dark, they come out with this awful sequel that was completely unnecessary. As if it's a bad nightmare, the tradition of a bad horror flick continues with this abysmal sequel. Uwe Boll steps down from the director's chair, unfortunately that doesn't help much because he produces this wreck and the film is still as bad as the first, which he directed. This film is horrible. With a bad cast, a bad script, and poor directing, the result is a film that is so cheap that it's difficult to comprehend why this crap was made. The film was made for a specific audience; unfortunately I wonder who that is. Is it the new generation of bad film lovers? Who knows? All I know is that if you enjoy a good supernatural, monster survival action horror flick; definitely avoid this film at all costs. You'll be glad you did. Alone in the Dark is a cheap looking film that is a lazy, unimpressive effort. If you're going to make a film, make it with passion and dedication; don't just stitch together as fast as you can to make a quick buck. No wonder straight to DVD titles are held in so little regard by the general public, everyone thinks it'll turn like crap, and most often it does. Alone in the Dark 2 is a poorly made film, one that doesn't offer anything or refreshing. Everything about this film is horrible, and if you're looking for something entertaining, watch paint dry instead, you'll be glad you did.
Oh dear terrible, people slated the first. That is way better than this! The camera work is dodgy, lighting poor, acting wooden and dialogue is awful. This is really low budget rubbish. Once again Lance Henriksen appears in a straight to DVD horror, with a short cameo from Danny Trejo and why on earth Rick Yune got talked into this I don't know. A shame for fans of the game!
laughably bad 'horror' film that doesn't come close to the original despite that being pretty poor as well. This is practically a B-movie in every aspect from effects to acting, I really can't think of anything positive to say about it even with our beloved Lance Henriksen being involved. There is some kinda crappy plot involving a witch?? totally not scary in the slightest as its simply a woman in a black cloak and hood with a scar on her cheek LOL!! The plot doesn't follow on from the first film so don't get excited about that, its a whole new story that isn't explained anywhere leaving you totally bemused as to what the hell is going on and why. Casting is poor (small throw away role for Trejo that's forgetable) with the odd choice of Rick Yune as Carnby which itself is bizarre as the character was a white man (Christian Slater) in the first film and in the video games, the whole film is almost in daylight (alone in the dark?), nothing really makes sense or is explained and the plot is just non existent haha Uwe Boll strikes again, the new Ed Wood.
Phil Hubbs
Super Reviewer
Alone in the Dark II Quotes
There are no approved quotes yet for this movie.