Forever Lulu
(2000)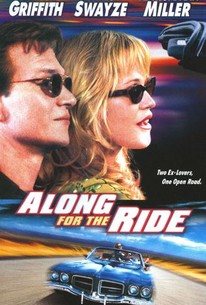 AUDIENCE SCORE
Critic Consensus: No consensus yet.
Movie Info
A man discovers his past hasn't just caught up with him -- it's taking him on a cross-country road trip in this edgy comedy. Level-headed Ben (Patrick Swayze) gives his less-than-stable girlfriend Lulu (Melanie Griffith) her walking papers and heads out to California, in hopes of breaking into the movie business as a screenwriter. Seventeen years later, Lulu checks out of a mental hospital and appears at Ben's doorstep in Los Angeles, claiming that she was pregnant at the time they broke up and that she was forced to put their child up for adoption; after all these years, Lulu has decided it's time they paid their son a visit. Lulu forces Ben to drive her to Wisconsin in search of their son, while Ben's wife Claire (Penelope Ann Miller) hops on a plane to Wisconsin in hopes of capturing Lulu upon arrival. Forever Lulu marked the directorial debut of screenwriter John Kaye, who also penned the original screenplay; the film was backed by Green Moon, the production company founded by leading lady Melanie Griffith.
Critic Reviews for Forever Lulu
All Critics (4) | Fresh (0) | Rotten (4) | DVD (1)
A cautionary tale about the importance of actors putting something away for the future so they don't have to keep working on humiliating tripe well past their prime.
This "dramedy" is neither dramatic nor comedic

Audience Reviews for Forever Lulu
½
People don't want to feel. They want to be entertained. A happily married television series writer is inauspiciously contacted by his schizophrenic ex-girlfriend from college. She tells him a tale of their son, that he never met, and giving their son up for adoption. The ex-girlfriend and writer head out on a mission to find their son. The writer's wife, skeptical of the ex-girlfriend's motives, follows them and gets into her own trouble. "Are you giving somebody a blowjob? You're not! Well, thank goodness." John Kaye delivers Forever Lulu in his only directorial picture. The storyline for this movie was better than I anticipated and I found the characters fascinating. The acting wasn't perfect or particularly great but the character development was still very good. The cast delivers mediocre performances and includes Patrick Swayze, Melanie Griffith, Joseph Gordon-Levitt, Lee Garlington, and Penelope Ann Miller. "For awhile we were so close that we only had one heart." I have been DVRing Joseph Gordon-Levitt pictures lately and decided to give this picture a shot. I actually really liked this film for the most part. The performances do not make the film, but the storyline is very good and it is definitely fun to watch the film unfold. I recommend giving this film a shot. "Give me the razor." Grade: C+/B- (6.5)
Kevin Robbins
½
A touching portrayal of a woman with schizophrenia and the subplot dealing with the effects of adoption. I never thought I'd be saying this, but Melanie Griffith was excellent.
Jeff B
Not a bad flick...I would have thought that Melanie would have learned to act by now. Obviously I was wrong..."
Ken T
Forever Lulu Quotes
There are no approved quotes yet for this movie.
Discussion Forum
Discuss Forever Lulu on our Movie forum!