Along the Ridge (Anche libero va bene)
(2007)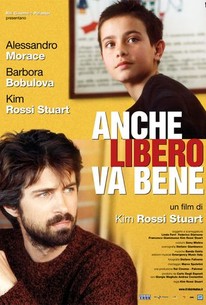 Movie Info
Writer-director Kim Rossi-Stuart helms and stars in the relentlessly disturbing Italian-language domestic drama Libero, from a script he co-penned with Federico Starnone, Linda Ferri and Francesco Giammusso. The story opens on a household in Rome, where single father Renato (Stuart) juggles responsibilities in his job as a cinematographer with his paternal obligations, which involve raising his son and daughter: teenager Viola (Marta Nobili) and primary schooler Tommi (Alessandro Morace). His valiant attempts in both areas, however, do little to compensate for his mercurial temper and sudden, vitriolic explosions of rage. The outbursts soon take their toll on both children; Viola delves into a rich adolescent fantasy world, while Tommi - more disturbingly - drifts into self-destruction (with suicidal walks along rooftop edges) and juvenile delinquency (slingshot attacks, directed at the neighbors). He fares little better at school, grappling with a newfound infatuation on a female classmate that he has difficulty expressing appropriately, and backwardness around his male peers. The story takes an unexpected twist when the mother of the family, Stefania (Barbora Bobulovi) returns, but her arrival reignites marital problems with Renato. Moreover, the latter's income declines sharply as he is fired from one job after another for irrational rants - further taking its toll on everyone. Libero marks the directorial debut of Rossi-Stuart, an established actor in Italian films. ~ Nathan Southern, Rovi
Critic Reviews for Along the Ridge (Anche libero va bene)
Audience Reviews for Along the Ridge (Anche libero va bene)
½
Along the ridge was a story of a dis functional family told through the eyes of Tommi an 11 year old boy. He lived with his father Renato and sister Viola. Their mother Stefania had abandon them long time ago for some other man. Renato with all his problems he still loves this kids and try to please them in what way he can. He wanted Tommi to be a professional swimmer, but Tommi's passion lies elsewhere, Football. When the mother suddenly appeared one day out of no where, there was hope and happiness in the family. But then she disappeared and leave the family again in despair. This movie was so real,beautifully directed by Kim Rossi Stuart who played the role of Tommi's father Renato. A must to see.
Daisy Maduro
Super Reviewer
Crafting first movie by the actor Rossi Stuart.A sweet and after a while tormenting Italian film challenging the traumas of youth from a strict and at the same time content father.When the mother is being...liberal (ironically,I sympathized with her more in the finale),daddy is being mad but by no means a beater.Fury is present all over and yet...it seems a simple story.Good attempt.
Dimitris Springer
Super Reviewer
Along the Ridge (Anche libero va bene) Quotes
There are no approved quotes yet for this movie.