The Amazing Transparent Man
(1960)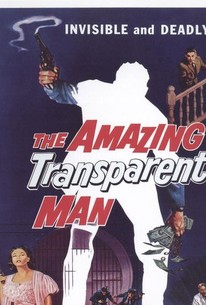 Movie Info
A deranged scientist who needs radioactive chemicals to produce his monstrous experiments devises a formula for invisibility. He gives the formula to an ex-convict so he can steal the chemicals, but the criminal uses his new ability to rob banks instead.
Critic Reviews for The Amazing Transparent Man
Audience Reviews for The Amazing Transparent Man
½
From the Mill Creek SciFi Clsddics Collection. The Amazing Transparent Man is very similar to The Invisible Man and one main difference with this movie is that involves the Atomic Age, radiation etc. A criminal who has escaped from prison is made invisible by a mad scientist and gets him to steal nuclear fuel to help with future experiments. Things go wrong when he robs a bank though as becomes visible and is also dying through radiation poisoning. This movie has some good special effects considering the low budget. Highlights include the "one man" fights. The cast includes Douglas Kennedy (The Land Unknown) and Marguerite Chapman (Flight To Mars). The Amazing Transparent Man is worth watching if you get the chance. A great way to spend just under an hour. 3 1/2 Stars 5-10-13
Bruce Bruce
Super Reviewer
While the premise is intriguing (although done way better in The Invisible Man from 1933) the film slowly descends into second rate science fiction slog. The film still had some decent effects for the disappearing act but not much else going for it. There are much better sci-fi films both after and before this one with much greater premises and lasting appeal! Skip it unless your desperate for a sci-fi film and have no better options.
Chris Browning
Super Reviewer
The Amazing Transparent Man Quotes
There are no approved quotes yet for this movie.
Discussion Forum
Discuss The Amazing Transparent Man on our Movie forum!