The Ambassador's Daughter
(1956)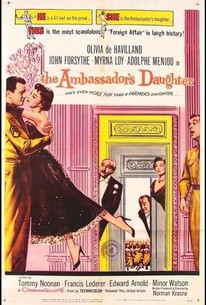 AUDIENCE SCORE
Critic Consensus: No consensus yet.
Movie Info
The offspring of the American ambassador to France (the star was then living in Paris with her journalist husband), De Havilland tries to dissuade narrow-minded senator Adolphe Menjou from declaring Paris "off limits" to American servicemen. One such man in uniform is sergeant John Forsythe, who falls in love with De Havilland, whom he mistakes for a model. Eventually Menjou is shown the error of his ways through the combined efforts of De Havilland and his own wife Myrna Loy, while Our Heroine finds true happiness as an Army wife. The Ambassador's Daughter was produced, written and directed by Norman Krasna, a renowned Hollywood wit whose comic gifts were apparently left back in California on this occasion.
Critic Reviews for The Ambassador's Daughter
There are no critic reviews yet for The Ambassador's Daughter. Keep checking Rotten Tomatoes for updates!
Audience Reviews for The Ambassador's Daughter
Frothy bit of fluff but with a great deal of charm. The entire cast are expert comedians excepting Forsythe but his role is really that of the straight man anyway. This was Myrna Loy's first supporting role after years in the star spot but while she is clearly secondary her skillful presence keeps her in mind even when she is offscreen. Tommy Noonan is most amusing as Forsythe's befuddled pal, his gauche hayseed with a good heart makes a nice counterpoint to the sophistication of the other players. Shot entirely in Paris with clothes by Dior this is a chic souffle of the type that Hollywood has no idea how to make anymore.
An Amoral Experiment All the Way 'Round I am sorely disappointed by the Netflix search system for the Roku. It makes it difficult to browse by category, which is what I really wanted to do this afternoon. I wasn't much interested in anything I had in my queue, but I couldn't think of anything I was, so the search function as it exists on the system was of no use to me. You can't search by performer or director, and while it throws up categories, you can't tell it which ones you want. Now, sometimes this is not necessarily a bad thing; I currently have [i]Saturday Night Live[/i] as one of my categories, which tells me that I can watch episodes from the years where it was actually good. Kyle MacLachlan, even; there are great sketches from that which aren't on the [i]Twin Peaks[/i] DVD. But what I wanted was to find a nice, light comedy from at least forty years ago. Probably one I hadn't seen. I ended up searching the website and adding a couple of movies to my instant queue. Joan Fisk (Olivia de Havilland) is the daughter of the American ambassador to France (Edward Arnold). She moves in high-powered circles. Among her father's guests are General Andrew Harvey (Minor Watson) and Senator and Mrs. Cartwright (Adolphe Menjou and Myrna Loy). She is engaged to Prince Nicholas Obelski (Francis Lederer). And one day, she is doing a fashion show for charity in a French hotel, and Sergeant Danny Sullivan (John Forsythe) mistakes her for a real Dior model. Her father and his guests make a bet about whether or not the American soldier will really be a perfect gentleman. Danny goes out with Joan, and the various dignitaries buttonhole his friend, Corporal Al O'Connor (Tommy Noonan) about the sergeant's personality and manners. Joan lets Danny believe that she's just a working girl, pretending to be French because she doesn't have a work permit. Of course, that isn't enough wackiness to pad the plot, so there are also comic misunderstandings. Which, to my great surprise, are not the fault of the Plucky Ethnic Comedy Relief. Not that Noonan really shows any ethnic stereotypes per se, but he is quite clearly lower class New York, which is arguably its own ethnicity. He's uncultured but has a heart of gold. And so forth. He's the sort of guy who asks for a beer from the bar at the Paris Opera. On the other hand, he is devoted to his friend. He swears that he would let Danny date his sister, if he had a sister. No, he's never had champagne before, and yes, he gets incredibly drunk on it in that belief that you can't get drunk on something so mild. However, he becomes the only person in possession of all the facts, and he manages to sort things out--while keeping his vow that he won't tell Danny anything he learned at the embassy. He's the only person who knows Joan's real identity who is not playing any kind of game. Even Mrs. Cartwright and the general keep playing as Danny's heart is being ripped to shreds. There is also the slight issue of age. Olivia de Havilland turns ninety-five this year, provided she's stubborn enough to live until June. (I'm betting she is.) I don't know how old Joan is supposed to be. We know she's sheltered and has only danced with soldiers at USO clubs where everyone knows who she is. But you know, they talk about the prospect of her children late in the movie, and to be blunt, she didn't have much of one by 1956. It's not a terrible thing that she was two years older than Forsythe. The woman in a relationship is not always younger than the man. (I'm about four and a half years older than Graham.) But they [i]both[/i] look too old for their characters. Myrna Loy is a fine age to be Adolphe Menjou's wife (though he can't have been elected Senator at twenty-eight; the Constitution says), but I think Joan is probably intended to be fifteen or more years younger than de Havilland was at the time. It doesn't work for me. Surely the bet isn't the best way to know the nature of the Average American Soldier Abroad anyway. A nightclub proprietor tells Danny that he is obligated to report a soldier who won't pay his tab to the gendarmes, who must then turn him over to the military police. Similarly, there must be any other incidents which lead to soldiers being arrested. Yes, Danny is perfectly charming to the sweet, innocent American girl he believes Joan to be. I'm sure they're all happy about that. But you know, they get to know Al a heck of a lot better while they're essentially holding him hostage in the embassy. They know he's boring, and they know he gets drunk on champagne, but they surely also know that he's a nice guy, and he's almost certainly told them why he joined the military and so forth. There are better ways to know someone's character than by lying to them. Frankly, I think the ending of the movie reveals more about the dignitaries' characters than they realize.
Edith Nelson
The Ambassador's Daughter Quotes
There are no approved quotes yet for this movie.
Discussion Forum
Discuss The Ambassador's Daughter on our Movie forum!