America, America
(1963)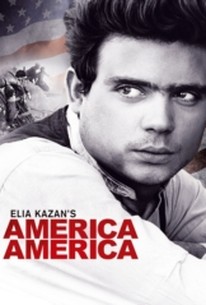 Movie Info
This film chronicles the story of a young Greek immigrant who dreams of going to America in the late 1890s. Based on Elia Kazan's uncle's experiences, this is a moving story of hope and pathos, movingly depicting the trials and turmoil of the period.
Rating:
NR
Genre:
Directed By:
Written By:
In Theaters:
On DVD:
Runtime:
Studio:
Warner Home Video
News & Interviews for America, America
Critic Reviews for America, America
Audience Reviews for America, America
"America, America" starts in Anatolia in 1896 where Stavros(Stathis Giallelis), a Greek, and Vartan(Frank Wolff), an Armenian, scrape by on bringing ice down from the mountains to sell in the market. As bad as things are them for right now, they are about to get a whole lot worse with the Turkish authorities using the excuse of a fire at the central bank to crack down on the minorities, leaving Vartan dead and Stavros frustrated to try and leave for America. After giving his shoes to a beggar on the road, he returns home at the end of the day. By then, his father(Harry Davis) has seen the writing on the wall, too, intending to send Stavros to Constantinople to seek out his cousin in order to pave the way for the rest of his family. Every family has a story to tell about how they came to live in America and this is Elia Kazan's personal one about his uncle, grandly told in a suitably epic fashion, with Haskell Wexler's sublime cinematography, that does get a little muddled towards the end. Along the way, we get a great sense of what it was like at the time and what it took to undertake such an arduous journey,(just getting to Constantinople is risky enough) which does not change a person so much as the people they encounter along the way. If you know the history of the region(specifically the Armenian genocide and what little I gleaned from Jeffrey Eugenides' novel 'Middlesex'), then you know what happens next and the timing could not have been any better for Stavros and family.
How many other films from the last 50 years have earned the three big nominations of Picture, Director and Screenplay and remain so completely unknown? Elia Kazan's deeply personal and epic tale of struggle, heartbreak, and dreams is an engrossing, altogether unique depiction of the immigrant's journey. At the same time it can be difficult to watch and is sometimes crudely constructed and acted. Its deficiencies are swamped though by its virtues, not the least of which is Haskell Wexler's amazing black-and-white photography.
Lee Mayo
½
Elia Kazan's most personal film is a strange film.The film is the type of film by a master who after near 2 decades of success in film both commercial and critical got to make.The film looks and feels like nothing Kazan had done before.The film has more in common with the films of Bergman, Antonioni, Da Sicca and John Cassavetes in terms of mood and episodic fragments.I still don't know what happened and need to watch it again but this film is the type of so called "epic film" that shows that design and big vistas are not needed when the story, the plot and characters are so interesting.Haskell Wexler's photography is amazing the deep blacks and whites are beautiful and the shadows on the faces can bring one to tears.
Greg Beck
America, America Quotes
There are no approved quotes yet for this movie.
Discussion Forum
Discuss America, America on our Movie forum!