America: Freedom to Fascism
(2006)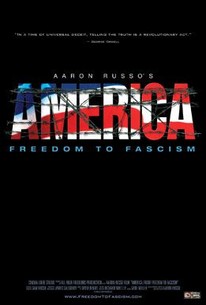 TOMATOMETER
AUDIENCE SCORE
Critic Consensus: This documentary about the American income tax and whether citizens must pay it is more of a scattershot diatribe than a persuasive argument.
Movie Info
Former rock & roll promoter and manager-turned-political activist Aaron Russo sets out to discover the truth behind the Internal Revenue Service in an eye-opening documentary filmed to find out if there is any existing law that requires Americans to pay an income tax. What Russo claims to uncover in his nonpartisan investigation is a systematic erosion of civil liberties implemented by wealthy bankers in the early 19th century and subsequently proliferated by a government more interested in ruling the people than serving them. Interviews with former U.S. congressmen, a former IRS commissioner, a variety of former agents for the IRS and FBI, authors, and tax attorneys paint an ominous image of how various components including the Federal Reserve, national identity cards, voter fraud, income tax, and the use of radio frequency identification (RFID) systems in tracking everyday citizens are all coming together behind the scenes to pave the way for an all-powerful police state the likes of which would send chills down the spine of George Orwell.
Critic Reviews for America: Freedom to Fascism
Audience Reviews for America: Freedom to Fascism
This documentary is director Aaron Russo's last attempt to reveal the American government's tyranny on its citizens before he succumbed to cancer in summer 2007. After watching this film, I strongly agree with his true message (following my own corroborating research) and solidly stand in favor of his cause. Ever since 1913 (fraudulent inception of the privately-owned US Federal Reserve System) America has been governed by PRIVATE BANKERS, who now influence the White House and worldwide media organizations. The Bush, Rockefeller, Morgan, Rothschild and Clinton families (Republicans and Democrats) are visibly at the political helm of this Orwellian monster - with many private bankers still hiding in secrecy. This film clearly displays what you weren't intended to know. I will not apologize to anyone who's offended by this film, because that shows weakness in defense of our HUMAN RIGHTS. Bush has already declared Marshall Law, after the Clinton administration got the ball rolling. I'm angry at the moment, and you will be too. No American is legally required to file Federal Income Taxes, although the IRS unconstitutionally enforces it. Find out why: http://video.google.com/videoplay?docid=-1656880303867390173
America: Freedom to Fascism Quotes
There are no approved quotes yet for this movie.