America: Imagine the World Without Her
(2014)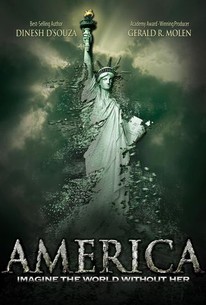 America: Imagine the World Without Her Photos
Movie Info
Someone once observed: "America is great because she is good; if she ever ceases to be good she will cease to be great." Today that notion of the essential goodness of America is under attack, replaced by another story in which theft and plunder are seen as the defining features of American history-from the theft of Native American and Mexican lands and the exploitation of African labor to a contemporary foreign policy said to be based on stealing oil and a capitalist system that robs people of their "fair share". (c) Official Site
Critic Reviews for America: Imagine the World Without Her
Audience Reviews for America: Imagine the World Without Her
Another beautiful film by Dinesh D'Souza, slamming down the liberal agenda with facts. It simply shows how America the Great is deteriorating, liberty is becoming a rarity and all the good is now being attacked for being evil. Dinesh D'Souza interviewed many leftists in this documentary, it must have been incredibly difficult to sit there and listen to their unintelligible responses. Still the liberal critics would never give this film the light of day due to their aversion to truth. God bless America!
Sylvester Kuo
Super Reviewer
Really not a movie for smart or inquisitive people.
Christian C
Super Reviewer
This American political documentary by Dinesh D'Souza has everything you could expect from an uninformed individual with an agenda of the "goodness of America" to be preached around the converted - because nobody else could listen to this. The story is based on D'Souza's book of the same name, in which he examines various accusations against the United States. It is funny that he never mentions Hawaii or Philippines or any other inconvenient events or wars for his theory! After about 20 minutes becomes obvious that this is just a second grade documentary with no credibility of any kind. Insisting on claims that the modern leftists are "telling a new story", however, contradicting traditional veneration for America in order to "convince a nation to author its own destruction" and "unmake the America that is here now" , just makes no sense! Because those are the people who can see injustice in everyday lives. The stupidity goes even further when he starts rambling about the price of the hamburgers to prove that the capitalism is just! I cannot believe how this guy can do any research if he does not know why is the hamburger cheaper in the fast food outlet than at home! Challenging several "indictments" made against the country and American exceptionalism was even funnier! Without any valid arguments he tries to disapprove the theories of the sociology professor and activist Michael Eric Dyson that "Thievery" was the "critical element" for "American empire" and historian and activist Ward Churchill's assertion that the US is the world's new evil empire! After that he moves to 1960s Chicago radical Saul Alinski, historian Howard Zinn, and others who he claims have promoted guilt and resentment regarding wealth inequality that has helped shape the political careers of Barack Obama and Hillary Clinton. I had enough of this guy. Even one star is too much!
America: Imagine the World Without Her Quotes
There are no approved quotes yet for this movie.