American Cannibal: The Road to Reality
(2006)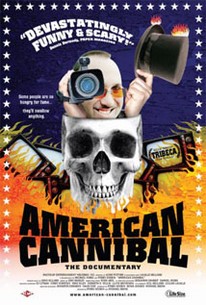 American Cannibal: The Road to Reality Photos
Movie Info
Originally conceived as an instructional video on how to conduct pitch meetings, American Cannibal: The Road to Reality gradually evolved into something far darker. Documentary filmmakers Perry Grebin and Michael Nigro follow aspiring TV writers Gil S. Ripley and Dave Roberts as their failed Comedy Central pilot leads them to try their hand at reality TV. They start out pitching a show about N.Y.C. firefighter trainees at Randall's Island, but eventually decide that they have to push the envelope and come up with something that has more of an edge. They wind up at the office of Kevin Blatt, best known for marketing the Paris Hilton sex tapes, and pitching a show called "Virgin Territory," in which several male contestants, all virgins, compete for the opportunity to lose their virginity to a porn star. Blatt responds positively, but upon reflection, he prefers an idea that Ripley mentioned in passing, pretty much as a joke, for a show called "American Cannibal," wherein contestants would be put on a remote island and deprived of food to the point of starvation, presumably to see which of them would be willing to resort to cannibalism. Ripley and Roberts have qualms about it, but it's Blatt's money, so they begin developing the show, with disastrous results. Grebin and Nigro intercut this narrative with interviews with reality show veterans like Dr. Richard Levak, Jon Murray, and The Daily Show's Lizz Winstead, who discuss the phenomenon of reality TV. The filmmakers appear to be blurring the line between reality and fiction, and rumors have circulated as to the authenticity of their story. American Cannibal: The Road to Reality had its world premiere at the 2006 Tribeca Film Festival, in the NY, NY Documentary Competition.
Rating:
NR
Genre:
, ,
Directed By:
Written By:
In Theaters:
On DVD:
Runtime:
Studio:
Critic Reviews for American Cannibal: The Road to Reality
Audience Reviews for American Cannibal: The Road to Reality
Interesting knowing that it was going to eventually fall apart. Who doesn't like to watch a train wreck happen?! It was alright.
Dee Loren
surprisingly good doc. like everyone else...i have no clue which parts are real and which were staged. i'm totally kind of freaked out about that girl though. nothing is ever really said...i mean, is she even alive? but anyway, yeah it was a great look into pitching idea after idea and how draining it is...just to have someone use an idea of yours, thats not even what you want. then have it spiral down to nothing. it was almost like they were being forced to sell out into reality tv and the whole time they hated themselves for it.
Dean Datre
Somewhat interesting story of two writers trying to get a reality television show off the ground, but it somehow falters the further into the film you get. I'm not sure what we're supposed to glean from the ending of the film, as the shows' production is plagued from the start, but it was an interesting way to wast an hour and a half. Give it a look on cable, like I did.
Bill Bryant
American Cannibal: The Road to Reality Quotes
There are no approved quotes yet for this movie.