American Hot Wax
(1978)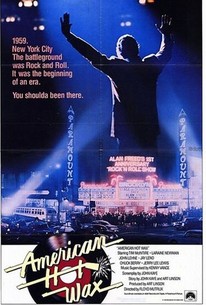 AUDIENCE SCORE
Critic Consensus: No consensus yet.
Movie Info
This lively musical comedy pays tribute to the birth of rock & roll in the late 1950s and the instrumental role played by disc jockey Alan Freed who helped bring the new sound into vogue. Much of the story centers on the daring deejay's attempts to put on the very first live rock & roll stage show at the Paramount Theatre in Brooklyn. To do this he must overcome the protests of concerned and angry parents, conservatives, and local police. Several performers of the era appear in the film including Chuck Berry, and Jerry Lee Lewis.
Rating:
R
Genre:
, ,
Directed By:
Written By:
Runtime:
Studio:
Paramount Pictures
Critic Reviews for American Hot Wax
All Critics (1) | Fresh (1) | Rotten (0)
... a solid stellar performance by Tim McIntire, and if he doesn't manage to save the film, he gives it a much-needed center of gravity.
Audience Reviews for American Hot Wax
A man who coined the words Rock n Roll died penniless. Watch the greatest guy that every lived in music history here. Any lover of rock n roll history will LOVE this! Truely a great bio-drama, this is one film that any lover of rock n roll history should see and therefore adore. Wait for the last third of the show..PLEASE. HIGHLY recommended by me, thank God Youtoube.com allows it to be shown as it is not for sale on the open market. A tremendous film that should not be missed by ANY early rock fan. [img]http://t2.gstatic.com/images?q=tbn:ANd9GcRei3HevPYMXvNo0Dfo9bzbG3yDPDPT6fThjaZDDknAN8b8dIKTEQ[/img] Alan Freed is often credited with coining the term "Rock 'n' Roll." The film starred Tim McIntire as Freed, as well as Fran Drescher, Laraine Newman, Melanie Chartoff, and Jay Leno in supporting roles. [img]http://t2.gstatic.com/images?q=tbn:ANd9GcSgUBruRJvNaV_zTQYpj7bxiurCPwpjiCZPZ_Haiah95G1KNprEcQ[/img] You MUST wait for the show to begin here at this point.... great stuff, really ! American Hot Wax is a 1978 biopic film directed by Floyd Mutrux and written by John Kaye telling the story of Cleveland disc jockey Alan Freed, who was instrumental in introducing and popularizing rock 'n' roll in the 1950s. Be sure to wait for the last half of the film when the stage show begins. It's incredible, its dynamite! A clip from the last half of the film: www.youtube.com/watch?v=qETbU2EtxFE This film, by Paramount Pictures no less, has been unreleased for purchase for years! No way could you see it. Till now.... See this film now and know the real story behind the early days of Rock n Roll. SEE the entire film here: http://www.youtube.com/watch?v=v0KPx8j_89k [img]http://t0.gstatic.com/images?q=tbn:ANd9GcTsQHeseFOmyAzNf62LgUa4TaHeX8mOKyAy3DtWieEoCifQ9VT4[/img] Chuck Berry heads an all star cast at the show 80% This excellent, well acted nostalgic look at the birth of rock 'n' roll is driven more by its amazing soundtrack and less by plot. [img]http://t1.gstatic.com/images?q=tbn:ANd9GcTXkW9fOcxWpKuhx8K3hciW9jdjyEPGEqMRWousklUMTQ6Wz8gCyA[/img]
monsieur rick
½
I saw this back in the day and there's really not much plot, but man oh man -what a lineup of who's who at the live concert at the end. WOW!
David Bell
AHHHHHHHHHH!!!! This is without a doubt the best movie I have seen in years...and I just watched it for the first time last night before going to bed at 2am. It is a little piece of movie heaven that make syou wish you were there...in the 50's during the birth of Rock-n-Roll. I can't believe I had never seen this before. It feels like a film that should be a mainstream cult hit! But it's not. AND THAT MAKES IT EVEN COOLER! Tim McIntire is great as Alan Freed and the rest of the cast, especially The Cadillacs and the kid that plays Artie are fabulous. This could be one of the most perfect films made...at least in its genre. The period and look and feel were captured perfectly. I honestly don't think anyone could make a movie like this today. It wouldn't hit the marks that this one did. It would have way too much glass to it and have to hit certain plot points and character shortcomings to have an effect on a modern day audience. When it comes down to it, it would be too formulaic with too much "hit-you-over-the-head drama". And of course, the music was just amazing! Some of the best scenes were when all these different groups wanted to sing for Freed because they weren't known yet. When the groups start singing, you recognize these songs as really big hits and you feel special like you were able to witness the creation of this historic songs and groups. There are some historical blips in the story, but it really doesn't matter. American Hot Wax is by far one of the most entertaining films I have ever seen and should not be missed.
Mike Nelson