American Assassin
(2017)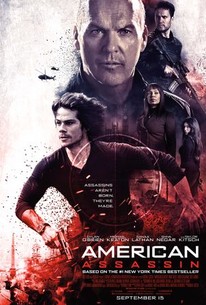 TOMATOMETER
AUDIENCE SCORE
Critic Consensus: American Assassin hits a few easy targets, but without enough style or wit to truly bring its characters to life -- or stand out in a crowded field of more compelling spy thrillers.
Movie Info
AMERICAN ASSASSIN follows the rise of Mitch Rapp (Dylan O'Brien) a CIA black ops recruit under the instruction of Cold War veteran Stan Hurley (Michael Keaton). The pair is then enlisted by CIA Deputy Director Irene Kennedy (Sanaa Lathan) to investigate a wave of apparently random attacks on both military and civilian targets. Together the three discover a pattern in the violence leading them to a joint mission with a lethal Turkish agent (Shiva Negar) to stop a mysterious operative (Taylor Kitsch) intent on starting a World War in the Middle East.
News & Interviews for American Assassin
Critic Reviews for American Assassin
Audience Reviews for American Assassin
½
Being just as generic as the trailer made it look, I skipped American Assassin during its theatrical run because I had the sneaking suspicion that I had already seen this type of Bourne Identity knockoff countless times. Not even Michael Keaton's need for an Action Man paycheck enticed my wallet, so, like a secret operative, I hacked the mainframe and espionaged a video rip of this. As you probably have seen from the trailers, terrorists kill Dylan O'Brien's hot girlfriend right after he proposes to her, and they leave him for dead. He spends the next year and a half infiltrating their terrorist cell to get his revenge. The CIA follows him, and decide to recruit him because he is "off the charts". It's tremendous, this guy's charts. Believe me, you've never seen charts like this man has. You're going to see his charts and say, "Wow, those are some of the best charts I've ever seen." Yes, it's true, he can punch, shoot guns, and speak Jihadistani. But of course, Keaton warns him the whole time to "never make it personal", which both he and O'Brien fail to do all throughout the film. It's too bad Taylor Kitsch hit his peak during True Detective Season 2 as that is a pretty underwhelming peak. In this, he plays the rogue operative turned nuclear terrorist whose involvement makes it personal for Keaton. You know where this is going. The only people who can stop the former CIA guy from starting WWIII are the current CIA guys. Ain't that American?
K Nife Churchkey
Super Reviewer
The film starts with a bang but slowly falls apart with a simple story that wasn't deserving of the talent. Michael Keaton was a smart choice for the mentor but the overall arc is tired, especially in a world with Bourne and Bond. The first 30 minutes are relentless and the best part of the movie, it's a shame that the pacing couldn't be held together from beginning to end. The villain is very weak and this simple storytelling hurts what should have been about foreign terrorists. There was a lot of potential here but gets lost in a hero who burns red at any time. 27-11-2017
Brendan Nicholls
Super Reviewer
½
American Assassin might be the most nothing movie of the year. I was sold on the trailer, I though Michael Keating looked great (and to be fair, he kinda was), but watching the movie itself, I felt completely blank. I can't even recommend American Assassin as background noise.
American Assassin Quotes
There are no approved quotes yet for this movie.
Discussion Forum
Discuss American Assassin on our Movie forum!