American Assassin
(2017)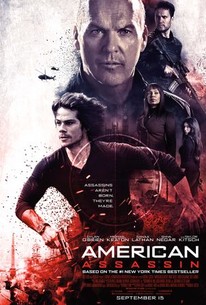 TOMATOMETER
AUDIENCE SCORE
Critic Consensus: American Assassin hits a few easy targets, but without enough style or wit to truly bring its characters to life -- or stand out in a crowded field of more compelling spy thrillers.
Movie Info
AMERICAN ASSASSIN follows the rise of Mitch Rapp (Dylan O'Brien) a CIA black ops recruit under the instruction of Cold War veteran Stan Hurley (Michael Keaton). The pair is then enlisted by CIA Deputy Director Irene Kennedy (Sanaa Lathan) to investigate a wave of apparently random attacks on both military and civilian targets. Together the three discover a pattern in the violence leading them to a joint mission with a lethal Turkish agent (Shiva Negar) to stop a mysterious operative (Taylor Kitsch) intent on starting a World War in the Middle East.
News & Interviews for American Assassin
Critic Reviews for American Assassin
Audience Reviews for American Assassin
When you're one of those people that goes to the cinema a lot it is movies such as American Assassin that seem to become the most stale and the most generic the fastest. Of course, to audiences that only see a few movies in theaters every year American Assassin will be a perfectly acceptable piece of action pulp. American Assassin is a film that will no doubt fulfill expectations for those that felt intrigued enough by the trailers to go out and buy a ticket, but while American Assassin is acceptable in terms of technical prowess, some interesting performance choices, and a rather straightforward if not clichéd plot it fails to really exceed in any way within the narrow parameters it has given itself to operate and exist within. No doubt hoping to piggy back off the success of last September's secret assassin thriller, The Accountant, American Assassin has neither the intrigue nor the style that picture had, but rather with this adaptation of the Vince Flynn airport novel director Michael Cuesta (the criminally overlooked Kill the Messenger) has settled squarely into middle-of-the-road territory with a story that isn't afraid to go big, with Cuesta (in his first major studio movie) unfortunately deciding it best to stay as safe as possible. This inherent feeling stay as safe as possible is to be understood in many ways for, by making this a competent action/thriller and little more, Cuesta stood more of a chance to please the general public than he did taking risks and appeasing a few critics. With such a consensus comes a solid return and more opportunity and eventually, more power over ones endeavors. Cuesta is playing by the rules in American Assassin. To the movie's credit, it does subvert a handful of expectations within certain scenarios while never being afraid to flaunt its more brutal aspects, but it also never embraces its own genre for the more exciting aspects that such a genre has to offer. Rather, this is a movie that is given ample opportunity by its genre to do some cool things with the story it is telling, but rather than take advantage of them American Assassin seems to consistently waste each and every one of them. read the whole review at www.reviewsfromabed.com
Philip Price
Super Reviewer
½
Personally, I love when a film adaptation of a novel is released when I haven't read the book, because I don't have to compare it to something that is probably more fleshed out. I like being able to escape at the cinema and not have to think about anything else throughout my viewing experience, so I'll be reviewing American Assassin strictly as a film, rather than comparing it to the novel that it's based on. When the trailers released for this film, I found myself intrigued, mainly due to the fact that it seemed like a fun ride and the fact that I lobe both Michael Keaton and Dylan O'Brien as performers didn't hurt either. Although this movie is far from perfect, I found myself enjoying this film just about as much as I expected to. Regardless of just how good this film is, here is why it's definitely impressive enough to warrant a viewing at matinee price. Plain and simple, American Assassin is about Mitch Rapp, an infuriated, revenge-driven assassin, who wants nothing more than to join forces with team who brings down terrorists. Having lost his parents in the past and recently his fiancé through a massacre on a beach, he has nothing left but to leave his old life in the past. This tragic backstory is slightly over-the-top, as it seems that literally nothing has ever gone his way over the years, but that also makes for some great motivation, so I was able to forgive that aspect for the most part. Although its themes are incredibly relevant in today's day in age, American Assassin exists to equally be a statement to the world, as well as a fun popcorn flick, balancing out its audience in the best way. By far the most enjoyable aspect about this film, which also gives you a break from the violent imagery throughout the majority of the action sequences, is the fact that Dylan O'Brien is a very charismatic leading man, and Michael Keaton, alongside the rest of the supporting cast members, ass seem to be having fun in their respective roles. Yes, this is a hard-hitting action flick, but the more somber moments between characters are definitely earned, even if they're too few and far between. Sadly, the biggest downfall that you will experience throughout viewing this picture, is the fact that the majority of the plot lines are fairly predictable. When going into a movie like this, you should be expecting some turns to occur, especially when you're dealing with terrorists and people that could potentially be doing inside jobs with our main characters. Trust me, that's really not giving much away, because this movie deals with ideals like this from beginning to end. It's the fact that these twists can be seem from a mile away and most of the action is fun to watch, but the stakes aren't always present. Although I don't have too many complaints about the film as a whole, the fact that it's so incredibly predictable is a very large detriment to it as a final product. In the end, American Assassin is a fun ride from start to finish. Those wh are queasy about violence and gore should definitely take awareness before viewing this film, because it doesn't pull any punches in that category. It seems funny to call this a fun movie, but when the action hits, it really hits hard, so I have no choice but to say I had some fun with certain portions of this movie. This is a well enough written screenplay, with some solid direction, and a cast that seems either completely devoted or just there to have some fun with these characters, so the overall product feels worth it in the end. American Assassin is far from perfect, but it's a solid flick to check out at matinee price (or rental).
American Assassin fails to set an actual target on what it wants to be. In fact, the film itself doesn't even know what it's doing to impress moviegoers like me alike. I say, confusing films always end up being mediocre to an extent, but I sure hope that I see an exception to the list one day or another.
EpicLadySponge the Adventurer
Super Reviewer
American Assassin Quotes
There are no approved quotes yet for this movie.
Discussion Forum
Discuss American Assassin on our Movie forum!