An American Christmas Carol
(1979)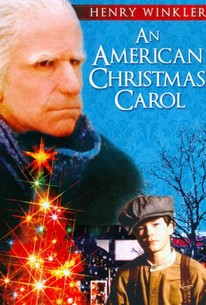 AUDIENCE SCORE
Critic Consensus: No consensus yet.
Movie Info
Made up to look like a septuagenarian, Henry Winkler plays Benedict Slade, a Scrooge-like miser living in a tiny New England town during the Depression. Slade goes Scrooge one further by repossessing items from a poor farm couple and an orphanage on Christmas eve. While reading a copy of Dickens' The Christmas Carol in his home, Slade is visited by his own set of Spirits Past, Present and Future, including his Hell-dwelling late business partner (Kenneth Pogue). Lensed in Canada, this made-for-TV film premiered the week before Christmas of 1979.
Critic Reviews for An American Christmas Carol
There are no critic reviews yet for An American Christmas Carol. Keep checking Rotten Tomatoes for updates!
Audience Reviews for An American Christmas Carol
Not bad idea and the plot is great. Winkler I'm assuming at the time probably was taking a big risk stepping out of The Fonz box. And he's really great in it. I loved the transposition to The Depression and the adaptations and allusions to the Dicken's novel are great. The biggest flaw for me was hair and makeup though. The old age makeup on Winkler makes him look 80 even though the character is only supposed to be in his 50's (and causes Winkler to overact a bit- much more so than in his younger years scenes) and hair styles and makeup are anachronistic all over the place (WW2 styles worn on ladies in WW1 period. Men's hair is all very 70's.).
Stephanie Merchant
½
Henry Winkler playes Scrooge in this tv movie of a Christmas classic. Winkler does a very good acting job in this movie. The story is very well done.
Lance S.
½
Christmas break is busy, but it's sure sped up my movie watching. I guess all that package wrapping and decorating can be done with the videos playing. That and all my friends seem to be up for movie nights instead of real parties lately. Oh well. [b][size=5]Borat: Cultural Learnings of America for Make Benefit Glorious Nation of Kazakhstan [/size][/b] Directed by: Larry Charles [img]http://images.apple.com/moviesxml/s/fox/posters/borat_l200606301554.jpg[/img] This film is rude, crude, disgusting, offensive, and stupid. I laughed so hard I occasionally had trouble breathing. Seriously, during the whole 'naked chase' scene, I was almost hyperventlating I was laughing so hard. I hadn't laughed that hard since the first time I saw [i]Planes, Trains and Automobiles [/i]the first time, especially during the 'freeway' scene. The difference is, that [i]Planes, Trains and Automobiles [/i]has a bit more behind it's belly laughs. Candy and Martin are real characters, and Huges writes a real story. After you've seen it a few times, and the belly laughs have worn off, PT&A is still worth rewatching. That isn't true of Borat. Borat is, for all it's hilarity, a long SNL skit. That said, it's a very good long SNL skit, funniest I've seen in some time. The laughs may be empty, but they are plentiful and consistent. [i][size=4]7.0[/size][/i] [b][size=5]An American Christmas Carol[/size][/b] Directed by: Eric Till [img]http://cover6.cduniverse.com/CDUCoverArt/video/1281651.jpg[/img] This retelling of 'A Christmas Carol' is the definition of 'blah'. It's kind of like Bill Murray's excellent [i]Scrooged, [/i]except it's not funny. It's got some decent moments, and most of it isn't painfully bad, there just isn't much reason to watch this. [i][size=4]5.0[/size][/i] [b][size=5]The Nativity Story[/size][/b] Directed by: Catherine Hardwicke [img]http://www.post-gazette.com/images4/20061201HO_nativity_450.jpg[/img] This movie definately greatly exceeded expectations. I loved [i]The Passion of the Christ[/i] for many reasons, but one of the major ones is that it was unromanticized and felt very real. I was figuring this one would go back to the tradition of melodramatic religious tales of earlier years that felt more like fantasy creations then expressions of genuine spirituality and faith. However, while this film isn't perfect, and occasionally fails to quite have the more real feel of [i]The Passion[/i] (largely because of the fact that it's in English, and uses some CGI), this is a very naturalistic, honestly crafted and moving. It expresses the simple story of the birth of Christ in an honest, simple and genuine manor, in a way that can truly move the faithful, and at least let others understand better, I think, what others find to be so moving. The cast is uniformally excellent. Agdashloo gives a wonderful performance as Elizabeth, the old woman who has a child when she thought it was past her time, Castle-Huges proves that she's a teriffic young actress, and I can't remember his name, but the guy who plays Mary's father is also the Iranian in Crash, and he does a fine job as well. Joseph is also played with ernestness and depth by a young man whom I've never heard of before, named Oscar Issac. I guess he's Guatamalan, but he looked very Jewish for his roll. Anyhow, the sets and cinematography are likewise excellent and really make you feel like you are in ancient Judia. The music also captures the feel of the film very well. Showing visitations from angles and such things are always difficult to do justice on film, but they do a more then fair job, certainly better then most movies that attempt it. There is really very little fault I can find with this film more then minor quibbles. It's a simple, honest, straightforward, and sincere expression of a story that has moved people fore eons, and will certainly become a Christmas classic, and deserves to be a classic period. [i][size=4]9.5[/size][/i] [b][size=5]Rambling Rose[/size][/b] Directed by: Martha Coolidge [img]http://www.epinions.com/images/opti/97/64/1036600-movie-resized200.jpg[/img] This movie starts out to be a very compelling, sexy and funny oddball of a movie about a sexually excited, and excitable young woman that joins a somewhat conflicted southern family as something between a babysitter and maid. It ends as a rediculous romantization of a fairly uninteresting slut. Laura Dern is a big overacting queen, and it fits her roll here. I liked the first experience between her and the adolesent young man of the family, the whole thing was interesting, well handled and sexy. However, after that, the movie goes down hill in a hurry. Frankly, nothing even remotely interesting happens. She sleeps with some local boys. Thinks she's pregnant. Gets sick. Is saved. Eventually finds the man of her dreams. The 13-year-old that finger banged her has fond memories. Seriously, for the rest of the movie is just flat out boring. You keep thinking something interesting will happen, but it never does. So, if you ever have the chance to see this movie...see the first 1/3rd. The rest is optional. [i][size=4]5.0[/size][/i] [b][size=5]Rocky Balboa[/size][/b] Directed by: Sylvester Stallone [img]http://movies.mainetoday.com/photos/55214/55214_ab.jpg[/img] The original [i]Rocky [/i]film is a great film. While I have enjoyed the sequels in some sense, II has some great scenes, III has a really cool song, IV is macho cheesy goodness, and V...well...I've seen worse films. The problem with all the sequels up to this point, including II, which I like a decent amount on some level, is that they really don't matter much. They essentially were cheaper and cheaper knockoffs of the original movie that repeated the same themes again and again. This is the first sequel to the original film that matters. It is the first one that is willing to confront new issues and give us new things to consider and new reasons to be inspired by Rocky's simple wisdome and courage. Stallone was a starving actor who wrote and sold the original story. It was his Rocky story. He's now an aging actor who hasn't had a hit in a decade. This is a continuation of Stallone's story as much as it is a continuation of Rocky's. Stallone isn't a great actor, but he's born to play Rocky. Rocky isn't smart, that's obvious, but he is wise. It's important not to confuse the two. Rocky was 30 during the first movie, as was Stallone, now both are 60. Having lived for 30 more years, having new pains and new scars, Rocky has some more observations about life, and new battles to fight. Like the first film, and unlike any of the other sequels, it's clear that the battle this time isn't really with Rocky's boxing opponent, but with himself. The script follows the same formula, true, but it does so in a very inventive way. I liked how it brought back old characters that otherwise would have been forgotten like Spider Ricco and the young Marie from the neighborhood. This film is, in many ways, [i]Gods and Monsters[/i] told from a different perspective. G&M was told from the perspective of an old man who tried to own the world and felt abandoned by it. This film is told from the perspective of an old man who never wanted anything, but felt the desperate need to confront himself. Rocky is a simple man, unlike James Whale, but both find themselves feeling old and useless. Rocky is a different kind of old man though, he confronts his demons, he cannot hide from them. I'm guessing that this movie will have more to say to the older generation then to me, the generation that was 20-30 when the first Rocky came out. But it's clearly a movie that has something to say, is has simple wisdom from a man who's lived and learned, and can tell us something about the journey he's taken and the journey he's still got to take. This film isn't flawless. It certainly should have been longer, the last 20 or so minutes feels rushed and doesn't provide as much depth as it could have. Earlier on, I thought it could have had more scenes from Rocky's trainer (Apollo's former trainer) The fight also is done in a more stylistic fashion then I thought was appropriate given the style of the rest of the film. The champ in this film is certainly no Apollo Creed, he's not particularly interesting. But the overall effect of the movie is just this: It's the first sequel that really matters. And that's saying a fair amount. [i][size=4]8.5[/size][/i]
Cliff Smith
An American Christmas Carol Quotes
There are no approved quotes yet for this movie.
Discussion Forum
Discuss An American Christmas Carol on our Movie forum!