American Experience
(2007)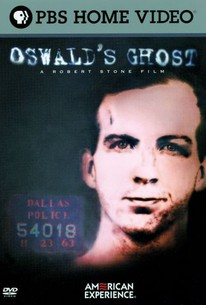 American Experience Videos
American Experience Photos
Movie Info
For the Baby Boomers, the assassination of President John F. Kennedy took on the same sense of tragedy as the September 11, 2001 terrorist attacks did for Generation Y -- not only for the effect that it had on the nation's morale but for the conspiracy theories that would follow in its wake as well. In the aftermath of the assassination, President Lyndon B. Johnson plunged the country into a divisive and questionable war in part due to paranoia, thus creating an atmosphere of distrust and disillusionment that would linger for decades to come. Later, following the assassinations of Martin Luther King Jr. and Bobby Kennedy, President Richard M. Nixon's flagrant abuse of power seemed to be the final nail in the coffin of American idealism. In this documentary, acclaimed filmmaker Robert Stone (Guerrilla: The Taking of Patty Hearst) speaks with such renowned figures as Norman Mailer, Edward J. Epstein, Tom Hayden, and Gary Hart in order to explore the malaise that still lingers since the Kennedy assassination while drawing telling parallels between that pivotal event and the aftermath of the September 11th tragedy.
News & Interviews for American Experience
Critic Reviews for American Experience
Audience Reviews for American Experience
As Confused as Most Americans Let's get one thing straight right off, and then you can disagree with my feelings about this film based on that and not what I actually have to say about it. Lee Harvey Oswald acted alone. He killed two men, and a few days later, he was himself murdered by a man acting alone. Period. No serious investigation of the evidence by an open mind can come to any other conclusion. It's worth noting that we have more examples of people wanting to believe it was a conspiracy and realizing the evidence showed things the other way than the opposite, and when people do believe there was a conspiracy, they almost always have to invent [i]huge[/i] conspiracies to explain all the evidence, often going to "but the evidence was faked!" Fine; so show the evidence of [i]that[/i]. Saying, "it must be true!" doesn't mean that it is. It means that you have introduced an unnecessary step to deny what the evidence really shows because you don't like what the evidence shows. Okay, now that that's out of the way, let's talk about the film. It's mostly a generic talking-heads documentary. There is archival footage, and there are various figures who are involved in the historical discussion in one way or another. We get an awful lot of Mark Lane, because you can't escape him. He was the first to leap on the conspiracy bandwagon, and he's stayed on it for fifty years. There is also an awful lot of Jim Garrison, presumably because of that farce of a trial. After all, ridiculous though it was, it's still the only trial the Kennedy assassination got, given that Oswald was killed before he could stand trial. We get Norman Mailer, who is among the "I wanted to believe in a conspiracy but couldn't" camp. There's Dan Rather, who was one of the reporters on the scene in Dallas that day and also a lone-gunman supporter. And, of course, there is the Zapruder film and so much footage from modern-day Dealey Plaza. What there isn't is much in the way of synthesis of information. It's all presented in isolation. What's more, some of what is said but known to be untrue is never contradicted. (We see footage of Lee claiming he had been denied a lawyer and didn't know that he was being charged with the assassination; Mark Lane says that he believed Lee immediately. However, Lee was lying and the documentary evidence all proves it.) It wasn't until most of the way through the piece that I was sure what side the documentary was coming down on, because almost every claim is either allowed to stand or else merely balanced by someone else's opinion. I mean, Dan Rather is right; conspiracists are never forensic experts, but then, neither is Dan Rather. Why should his opinion of how Kennedy's head moved be more important than Mark Lane's? Lane is a lawyer. Neither is a doctor, a forensics analyst, or even a physicist with an understanding of how forces act on things. The film even mostly ignores the wealth of evidence that we should be ignoring Jim Garrison and Oliver Stone. I don't even remember a mention of the outcome of that trial, which is surely pretty important. (The jury took half an hour and came back [i]more[/i] convinced that Oswald had done it.) We get a person or two saying Garrison was crazy, but we also get lots of archival footage of Garrison saying, well, of course people say I'm crazy, because they're more comfortable with that. Some people consider this journalistic integrity, but that's because they don't understand how "nonbiased reporting" is supposed to work. The reliability of your witnesses is crucial; that's why this documentary does make sure to mention that Garrison's chief witness was drugged and hypnotized into his supporting testimony. When we know that testimony is unreliable, we know how much weight to give it. Knowing about Mark Lane's adventures in Guyana isn't relevant, but knowing how often his story of what "really" happened has changed is. Where this film works best is as a broad outline of the history of Kennedy conspiracism. Not even a particularly detailed history. We glance over the Select Subcommittee almost in passing. One or two journalistic investigations get mentioned, but there have been literally dozens. While Norman Mailer's chief association with the Kennedy assassination was through his biography [i]Oswald's Tale[/i], we never spend much time talking about Oswald or Ruby. The title is appropriate; Oswald, here, is all but missing. He passes through this story without leaving much trace. There is footage of his mother, who was not exactly the most stable woman going herself, but not his brother, who stated categorically that Lee did it and he wasn't a bit surprised. (Strangely, I am unable to find out if Robert Oswald is still alive, though he was as recently as 2011.) There is no Marina, who believed he did then couldn't live with that and changed her stance. Oswald, here, is a cipher. He just happens to be a guilty one.
Edith Nelson
½
Outstanding (and admirably evenhanded) documentary about one of the most defining mysteries of the last century, from director Robert ("Guerrilla: The Taking Of Patty Hearst") Stone.
Jason Alley
½
Oswald's Ghost is a "good" documentary dealing with the often rehashed subject matter of JFK's death and the numerous theories that revolve around the questionable nature of its happening. I will say: I do question it and the entire "magic bullet" theory has always perplexed me (really?! there is no logic to it whatsoever and it is more magical than Jesus Christ). But getting this out in the open just shows that I am in agreement with a large portion of the American population ... and with docs like these nobody will ever really change their opinion(s) either because there is absolutely NOTHING new here to go on! I mean that: NOTHING! We've heard all of this before and see it all before on various television networks over the years. I thought this to be most unfortunate as I was expecting actual links to some of the smoking guns (I have seen docs with more compelling evidence on cable television -- one involved "brainwashing" and a "trigger" with Lee Harvey Oswald I found to be highly-convincing). The brainwashing/trigger means that Oswald encountered something in his daily goings-on that "clicked" in his mind and set him on the mission to kill JFK and after the deed was done a similar trigger would counteract it and he'd then have NO knowledge of doing this unspeakable deed. The evidence supporting this was highy convincing and it explained Oswald's behavior and some questionable training he had picked up before this November day (it also explained why he had particular guns and papers in his possessison); but THIS documentary didn't bring any of that up. Oswald's Ghost seemed to be a pretty standard documentary without much new evidence to throw out at its audience ... and this was unfortunate. It actually seemed to be somewhat un-biased because of the lack of compelling information put forth and it didn't seem to question a whole lot. Politician Gary Hart and journalist Dan Rather talk to the camera quite a bit and they are the film's best tidbits of inside thinking; but they aren't enough to make this one of the better films regarding the JFK assassination. You have seen this before and so there is no real point to watch it again ... even if you are a JFK history buff. There is no WOW here ... it is more of a gradual hummm.
Thomas Williams
American Experience Quotes
There are no approved quotes yet for this movie.
Discussion Forum
Discuss American Experience on our Movie forum!