American Friends
(1991)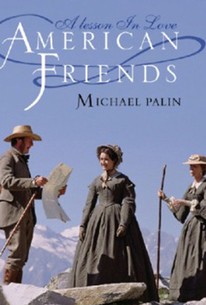 AUDIENCE SCORE
Critic Consensus: No consensus yet.
Movie Info
Michael Palin plays an Oxford don with acute female trouble in this film. While on holiday, Palin crosses the path of an American tourist and her adopted daughter. Both women express an inordinate desire for the bookish Palin, leading to profound changes in the lives of all concerned.
Critic Reviews for American Friends
All Critics (4) | Fresh (2) | Rotten (2)
Delightful portrait of cross-cultural love that speaks softly but carries a lingering scent.

Spirituality and Practice
Audience Reviews for American Friends
½
A beautiful film . From a time and a world does not exist anymore . Unfortunately for us . It is amazing for me that today what is beautiful , full of substance , real values , qualities , is not appreciated anymore .Only cruelty , ugliness, violence attract people of today .WE HAVE WHAT WE ASK . I give this film 4 stars and a half from five .
Marian Stanca
½
Obviously Before Eugenics Was a Thing I wasn't aware that it used to be forbidden for Oxford dons to be married, but now that I know, I'm not overly surprised. Academia has long treated women as though they had cooties at best and mind-sucking powers at worst. It's gotten better in recent years, but it wasn't until well into the twentieth century that Oxford granted degrees to women--and that was [i]after[/i] it admitted them for studies. They could attend, but they couldn't get a piece of paper saying that they'd satisfactorily completed their studies. The idea that a man wouldn't be capable of doing his job as a professor if he had a wife and, presumably, children actually means that Oxford expected more then the Church of England. In fact, a vicar's wife has long been considered essential to the proper running of a parish, but then, she was expected to do all the girly things like taking care of people. No place for that in college, I suppose. Reverend Francis Ashby (Michael Palin) probably stands to be the next president of Oxford when the old one (Robert Eddison) finally kicks off. However, he does risk taking a vacation to the Swiss Alps despite the fact that the president looks inclined to dropping off at any moment. The scene he enters seems rather out of a Merchant-Ivory production. Most important are Miss Elinor Hartley (Trini Alvorado) and her aunt, Miss Caroline Hartley (Connie Booth). Caroline rescued Elinor from a life of desperate poverty in Ireland and basically never lets Elinor forget it. Both women fall for Francis, but of course he can't even think about women, because he has the college. And when it looks like he's going to start thinking about Elinor after all, he flees back to Oxford, where his rival, Oliver Syrne (Alfred Molina), has begun to make some headway with wooing the men of the college into electing him next instead. And Elinor decides she won't let Francis escape her, and the Hartley women come to Oxford. The end scroll informs us that what we have watched is very like the story of one Edward Palin. Who, indeed, left Oxford and ended up having seven children. One of those children had a grandson named Michael. I don't know how closely the story as we've seen it resembles the actual Palin family history; I suppose Michael would know better than I. Certainly neither the end scroll nor the two reference sites I use are giving me a lot of detail on the subject. If the story is accurate, I tend to assume that he is not descended from "Elinor's" first child. However, if his great-grandparents really did travel as is shown here, at least we know where he gets that particular urge. I like to think that this is one of those stories handed down through the family with emphasis on the importance of doing what you think is right, even if not everyone agrees, but no one seems to want to tell me that detail, either. Again, you'd probably have to ask Michael Palin. It's a bit of a bittersweet story, really. I mean, for one thing, I can't help feeling at least a bit sorry for Caroline. I got the impression through most of the story that she was rather angling for Francis herself, and certainly that was better than being pursued by that unpleasant doctor (Alun Armstrong, I'm pretty sure), who (I'm pretty sure) was already married. Any way you look at it, Connie Booth was nearly fifty and her character was an old maid. An old enough maid, indeed, to have a niece old enough so it wouldn't be scandalous for her to marry. Now, it's true that I have friends who are considerably older than their siblings, but it's never implied that it was the case for Caroline. Though we don't know much about Elinor's family other than there were a lot of them and that they were poor in Ireland. At any rate, it's reasonable to believe that part of the reason Caroline took in Elinor was that she wanted a family of her own--and now she's lost it along with a man she seemed interested in. Honestly, the outcome I was hoping for was that this would turn out to be the story of how Oxford dons became allowed to marry. Though interestingly, a search of when that was first permitted shows that it began two years before the movie is set. Whether that's a mistake on the part of the site I found saying that or a mistake on Palin's part, I cannot say. Any way you look at it, it's rather better for the intelligence of the species as a whole if intelligent people are allowed to marry and have children. (Leaving aside the possibility that intelligence and certain forms of mental illness are genetically linked, of course, which is a longer and more complicated debate!) It's also better for the individuals to be able to experience a full and healthy family life. One of the marks of the stereotypical eccentric intellectual, after all, is that they don't have anything like a healthy family life. Or, indeed, a family life at all. Perhaps that ban is part of why.
Edith Nelson
Depending on your degree of cynicism, you could call "American Friends" a sweet, pastoral romance or just an arthouse rehash of the "Grease" plot (two lovers meet on vacation but have problems when back in their usual circles). Most people (including me) will seek out this film because Monty Python's Michael Palin is the star and co-writer. The script is based on his own great-grandfather's experiences. But don't be fooled -- despite the presence of Palin and Connie Booth ("Fawlty Towers"), "American Friends" has few, if any, laughs. Yet both actors are quite solid in these dramatic roles. The setting is Victorian times, the era of polite repression and woolly sideburns. Palin is Reverend Francis Ashby, an Oxford administrator poised to take over the university from its dying, elderly chancellor. All is well until he visits the Swiss Alps and meets pretty Elinor (Trini Alvarado) and her spinster aunt (Booth). Realizing he could violate his school's ferocious moral code, he ducks out early and returns home. But when Elinor and Caroline unexpectedly turn up at Oxford, his feelings resurface and a scandal threatens. The cast also features Alfred Molina as Ashby's devious rival, along with many other actors faced with temporary shaving issues. "American Friends" looks wonderful with its sparkling sunlight, mountain scenery and Oxford's stately architecture. But the story is too mild, and the age difference between the leads is awkward. Palin is 24 years older than Alvarado, and the gap between their characters is even wider. We're supposed to root for their love, but this is difficult when Francis is in his late forties and ingenue Elinor seems barely legal.
Eric Broome
Super Reviewer
American Friends Quotes
There are no approved quotes yet for this movie.
Discussion Forum
Discuss American Friends on our Movie forum!