American Gangster
(2007)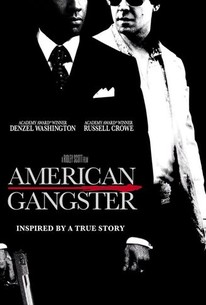 TOMATOMETER
AUDIENCE SCORE
Critic Consensus: American Gangster is a gritty and entertaining throwback to classic gangster films, with its lead performers firing on all cylinders.
Movie Info
Nobody used to notice Frank Lucas, the quiet driver to one of the inner city's leading black crime bosses. But when his boss suddenly dies, Frank exploits the opening in the power structure to build his own empire and create his own version of the American Dream. Through ingenuity and a strict business ethic, he comes to rule the inner-city drug trade, flooding the streets with a purer product at a better price. Lucas outplays all of the leading crime syndicates and becomes not only one of the city's mainline corrupters, but part of its circle of legit civic superstars. Richie Roberts is an outcast cop close enough to the streets to feel a shift of control in the drug underworld. Roberts believes someone is climbing the rungs above the known Mafia families and starts to suspect that a black power player has come from nowhere to dominate the scene. Both Lucas and Roberts share a rigorous ethical code that sets them apart from their own colleagues, making them lone figures on opposite sides of the law. The destinies of these two men will become intertwined as they approach a confrontation where only one of them can come out on top.
Rating:
R (for violence, pervasive drug content and language, nudity and sexuality)
Genre:
Directed By:
Written By:
In Theaters:
On DVD:
Runtime:
Studio:
News & Interviews for American Gangster
Critic Reviews for American Gangster
All Critics (209) | Top Critics (49) | Fresh (167) | Rotten (42) | DVD (10)

Entertainment Weekly
Top Critic
Hollywood Reporter
Top Critic
Scott's not interested in fireworks but small implosions of the soul and ego.

Like much of his oeuvre, Scott's scaled-up movie is bigger than life - and lesser for it. But while never digging deeply or darkly enough to match its own grand vision of itself, slick technique drives the story forward with pace and style.
How much truth we get in the movie version is hard to say...nobody much cares if it's gospel, as long as it's riveting. Here, alas, it is not.

Audience Reviews for American Gangster
American Gangster tells of the rise of 70s Harlem drug baron Denzel Washington and the efforts of crusading detective Russell Crowe to bring him to justice. Once again Ridley Scott proves he is one of the best directors working today, brilliantly bringing the Harlem of the period to life and essentially telling two tales in tandem in an intelligent and always entertaining way. Denzel is always better in his shadier roles, and this for me has to be one of his best. It does not have the grit and intensity of Scorsese's gangster pieces and the action/violence is sparse. It's more in the vein of something like Infernal affairs or a 70s version of The Wire in its treatment of the story and Scott's pacing is spot on, as the film despite its two and three quarter hour length never drags. The climactic shoot out is brilliantly done, delivered by Scott in a way you know his brother is completely incapable of; his version probably would have been an unwatchably choppy hallucinogenic migraine. It would have been nice to see Crowe and Washington share the screen a little more, but otherwise it delivered on every level. It doesn't challenge the classics, such as The Godfather or Goodfellas, but more than holds its own against other heavyweights such as Donnie Brasco and The Departed.
Ridley Scott develops a masterpiece to be enshrined historically as a magnificent crime/drama classic. American Gangster provides what is to be expected of the obvious title: violence, drugs, and a daring story. The film is also given an extra push by its groundbreaking cast, especially Washington & Crowe. 4/5
Eugene Bernabe
Super Reviewer
Discussion Forum
Discuss American Gangster on our Movie forum!