American Gun
(2006)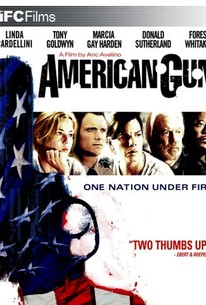 Movie Info
Three stories of how America's obsession with firearms impacts its citizens are explored in this independent drama. Carl Wilk (Donald Sutherland) runs a gun shop in Virginia that has been owned and operated by his family for generations. Carl sees the shop as his family's legacy without paying much mind to what happens with the weapons he sells. When his granddaughter Mary Ann (Linda Cardellini) needs money for college, Carl gives her a job in the store, and while she's hesitant at first, she becomes fascinated with the merchandise as time passes. On the West Side of Chicago, Carl Carter (Forest Whitaker) is the principal of a high school where violence has become a sad fact of life. As Carl and his wife, Sara (Garcelle Beauvais-Nilon), fear for their young son as they worry he could either fall prey to the violence of their community or embrace it himself, Carl receives a severe emotional blow when Jay (Arlen Escarpeta), one of his most promising students, is discovered carrying a pistol. And in Oregon, Janet (Marcia Gay Harden) is a single mother still troubled by the death of her teenaged son three years before, who took his own life after killing a handful of his classmates in a violent incident at a high school. As Janet deals with sharp words from the community, many of whom believe she should be held responsible for her late son's actions, she is unsure how to handle her surviving son, David (Christopher Marquette), who is now of high-school age. American Gun was the first feature film for writer and director Aric Avelino.
Rating:
R (for violent content and language)
Genre:
,
Directed By:
Written By:
In Theaters:
On DVD:
Runtime:
Studio:
News & Interviews for American Gun
Critic Reviews for American Gun
Audience Reviews for American Gun
This film is just another pathetic attempt to demonize guns and portray gun ownership as some sort of dark cloud in peoples lives. Not even a nice try. What would be nice is if a film was produced showing the truth of the many lives that are saved everyday by people who are concealled carry holders who are still alive because murderers, robbers, rapists and home invaders were stopped before their devious plans could be carried out. Or how about a film that goes along with actual national statistics that indicate when people have to wait for police to arrive during a shooting rampage an average of 14.3 people are killed compared with 2.3 deaths when the rampage is stopped by armed citizens. Another interesting docudrama would be to show the devestating effects of Autralia's nationwide ban on guns and how its citizens are now helpless victims as armed robbery is up 68%, armed assaults are up 28%, home invastions are up 21% and so on. I think those who are brave enough to tell the truth would be surprised at the response and the support that they would receive from producing a high quality film on these topics I just mentioned, which would be in complete contrast to this film which drags on with useless, misleading content.
Bill Broaddus
Solid performances from Whitaker, Gay Harden, and Goldwyn make this story about the consequences of gun violence worth a watch.
Stephen Huss
½
[font=Century Gothic]"American Gun" consists of three separate storylines:[/font] [font=Century Gothic][/font] [font=Century Gothic]1) In Ellisburgh, Oregon, the third anniversary of a high school massacre is fast approaching. The mother of one of the shooters, Janet Huttenson(Marcia Gay Harden), is stuggling to get by. Her younger son, David(Chris Marquette), is now the age of his older brother when he died.(But I don't understand why she never moved away to give her younger son a fresh start. Frankly, nobody can handle that much pain and torment.) [/font] [font=Century Gothic][/font] [font=Century Gothic]2) On the south side of Chicago, a high school principal(Forest Whitaker, again proving that he is one of the best actors around) works everyday to make his school a safe place to learn.[/font] [font=Century Gothic][/font] [font=Century Gothic]3) In Charlottesville, Va, Mary Ann(Linda Cardellini) is attending the University of Virginia . She is uneasy about working in the gun store that her grandfather(Donald Sutherland) owns.[/font] [font=Century Gothic][/font] [font=Century Gothic]"American Gun" has an interesting set-up that promises a thorough examination of gun violence in America but the movie goes nowhere quickly and shamefully ducks out of the way of any politcs. Instead, it takes an ineffectual approach to the material that reeks of touchy-feely sentimentalism. Yes, families need to communicate better and we can all use a group hug from time to time but none of that does anything to address the urgent problem of the ready availability of guns in this country.[/font]
American Gun Quotes
There are no approved quotes yet for this movie.
Discussion Forum
Discuss American Gun on our Movie forum!