American Hardcore
(2006)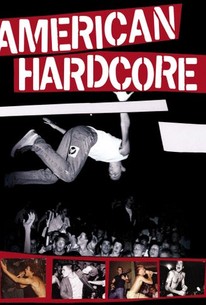 American Hardcore Videos
American Hardcore Photos
Movie Info
Generally unheralded at the time, the early-80s Hardcore Punk Rock scene gave birth to much of the rock music and culture that followed. There would be no Nirvana, Beastie Boys or Red Hot Chili Peppers were it not for hardcore pioneers such as Black Flag, Bad Brains and Minor Threat. Hardcore was more than music -- it was a social movement created by Reagan-era misfit kids. The participants constituted a tribe unto themselves -- some finding a voice, others an escape in the hard-edged music; some sought a better world, others were just angry and wanted to raise hell.
Rating:
R (for pervasive language including sex and drug references)
Genre:
,
Directed By:
Written By:
In Theaters:
On DVD:
Runtime:
Studio:
Cast
Critic Reviews for American Hardcore
Audience Reviews for American Hardcore
½
Being someone who spend time in the hardcore punk scene in the late 90s and early 2000's I was obviously very excited to see this documentary. As the documentary will show you this music scene is more than just a music genre, but a full fledged culture and family. Things have obviously changed a bit since the eighties, but there is still that sense of family in the scene today. American Hardcore is more of a history lesson from some of the pioneers than a full fledged documentary about the entire scene. I though the movie was going to really show the full scope of not only the beginnings of hardcore and punk but also show how it has evolved over the years. This documentary really lacks overall though. It is good to see a movie even made about the subject, especially for someone who is not that familiar with the music and wants to learn about it. But for a lifelong fan of the music who already knows a lot of the history, I found it to honestly be a little boring. I think an updated version of this movie would be better suited, why stop in the eighties ? Hardcore and punk are still really strong today in cities across America. You can bring the entire thing together and end the movie in present time.
Andrew Brennan
½
While it probably appeals only to fans of the genre, American Hardcore is an interesting and informative account of a very important movement in musical history.
Your Friend Goo
½
This was good in that it was bolstered by testimonials from the hardcore scene's biggest names, generally, but its scope was simply too broad. There is a lot of new information served up in a short period of time, for the uninitiated, and without the proper context and analysis a lot of it is rendered ineffectual. It provides a distillation of the movement that one could approximate without the two-hour investment and only sweetens the pot by throwing in a few band names and old clips. The most interesting part might be just seeing these punk rockers all middle-aged, sitting in front of children's jungle gyms.
Nate Harris
Super Reviewer
Discussion Forum
Discuss American Hardcore on our Movie forum!
News & Features