American History X
(1998)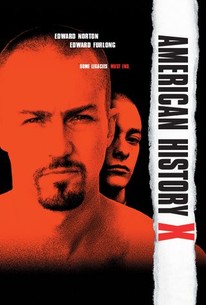 American History X Videos
American History X Photos
Movie Info
Tony Kaye made his feature directorial debut with this dramatic exploration into the roots of race hatred in America. In a shocking opening scene, teen Danny Vinyard (Edward Furlong) races to tell his older brother, neo-Nazi Derek (Edward Norton), about the young blacks breaking into his car in front of the house, whereupon Derek gets his gun and with no forethought shoots the youths in their tracks. Tried and convicted, Derek is sent away for three years in prison, where he acquires a different outlook as he contrasts white-power prisoners with black Lamont (Guy Torry), his prison laundry co-worker and eventual pal. Meanwhile, Danny, with a shaved head and a rebellious attitude, seems destined to follow in his big brother's footsteps. After Danny writes a favorable review of Hitler's Mein Kampf, black high-school principal Sweeney (Avery Brooks) puts Danny in his private "American History X" course and assigns him to do a paper about his older brother, who was a former student of Sweeney's. This serves to introduce flashbacks, with the film backtracking to illustrate Danny's account of Derek's life prior to the night of the shooting. Monochrome sequences of Derek leading a Venice, California gang are intercut with color footage of the mature Derek ending his past neo-Nazi associations and attempting to detour Danny away from the group led by white supremacist, Cameron (Stacy Keach), who once influenced Derek. Director Tony Kaye, with a background in TV commercials and music videos, filmed in L.A. beach communities. Rated R "for graphic brutal violence including rape, pervasive language, strong sexuality and nudity." ~ Bhob Stewart, Rovi
Rating:
R (for graphic brutal violence including rape, pervasive language, strong sexuality and nudity)
Genre:
Directed By:
Written By:
In Theaters:
On DVD:
Runtime:
Studio:
Critic Reviews for American History X
Audience Reviews for American History X
½
I haven't wanted to watch this as I was afraid of more Hollywood racist propaganda. Boy was I surprised when the propaganda turned out to be of the liberal variety instead. Regardless of the movie-of-the-week underpinnings, the acting is first rate, Norton and Furlong turning in superlative work.
Kevin M. Williams
Super Reviewer
One of the most powerful films I've ever seen, with an incredible lead performance from Edward Norton. The overall message of the movie is extremely important - that even the most heinous and hateful of people can change, as seen by the slow-burn approach of Norton's friendship with a black man in prison. The ending always gets me, it's a heart-wrenching finale that is hard to watch but extremely appropriate. This is a film everyone should see.
Dan Schultz
Super Reviewer
½
Powerful and gripping from beginning to end. American History X provides a great performance from Edward Norton and a graphic tale involving the influences of society in the household and relationships. Very explicit, destructive and compelling, the film makes a strong mark that's as challenging as its direction. 4.5/5
Eugene Bernabe
Super Reviewer
American History X Quotes
| | |
| --- | --- |
| Danny Vinyard: | Hate is baggage. Life's too short to be pissed off all the time. It's just not worth it. |
| | |
| --- | --- |
| Davina Vinyard: | When was the last time you were actually able to see your feet? |
| | |
| --- | --- |
| Danny Vinyard: | So I guess this is where I tell you what I learned - my conclusion, right? Well, my conclusion is: Hate is baggage. Life's too short to be pissed off all the time. It's just not worth it. Derek says it's always good to end a paper with a quote. He says someone else has already said it best. So if you can't top it, steal from them and go out strong. So I picked a guy I thought you'd like. 'We are not enemies, but friends. We must not be enemies. Though passion may have strained, it must not break our bonds of affection. The mystic chords of memory will swell when again touched, as surely they will be, by the better angels of our nature.' |
| | |
| --- | --- |
| Danny Vinyard: | I'm sorry, Derek. I'm sorry that happened to you. |
| Derek Vinyard: | I'm not. I'm lucky. I feel lucky because it's wrong, Danny. It's wrong and it was eating me up, it was going to kill me. And I kept asking myself all the time, how did I buy into this shit? It was because I was pissed off, and nothing I ever did ever took that feeling away. I killed two guys, Danny, I killed them. And it didn't make me feel any different. It just got me more lost and I'm tired of being pissed off, Danny. I'm just tired of it. |